Crafts
WinterAll AgesResources21 Comments
Lean into winter crafts with this giant collection of snowflake crafts for kids to make with you!
I love a winter craft – especially anything involving snowflake crafts for kids.
But, well, our snowflakes are usually just paper snowflakes. We've done a couple with other materials, but I'm so excited to find new ways for the boys to make snowflakes.
Need more winter crafts? Try this list of 28 cool winter crafts for kids!
So I started hunting for ideas, checking all of my favorite bloggers and deep-diving into Pinterest. And I think I did it!
30+ Easy Snowflake Crafts for Kids to Make This Winter!
I found over 30 incredibly easy snowflake crafts for kids! Now, I'm sharing them with you – because we all need some easy winter crafts right now.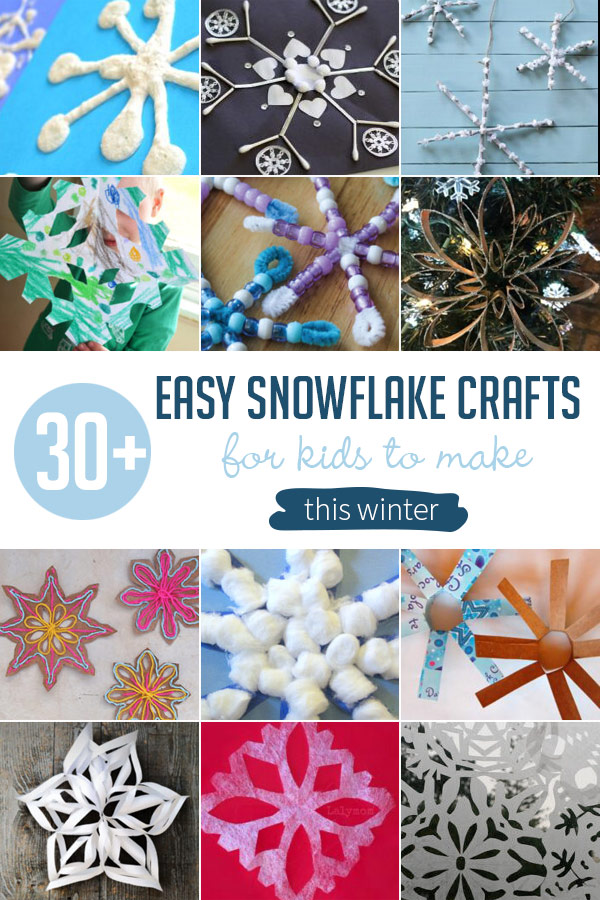 Snowflake Crafts for Kids Using Unique Materials
I mentioned that we seemed super stuck on just paper snowflakes right? Well, this first mini-list is all about trying new materials and supplies to craft!
Wrapping paper, cardboard, paper towel tubes, and more – all used to DIY pretty snowflake crafts for kids!
Bonus: everything is super simple to make, too. And all the materials are pretty easy to find also.
Ready, set, craft!
Simple to Make Snowflake Art for Kids
Making actual snowflakes is fun, and such a classic kid activity for winter. But why not go the extra mile and include snowflakes into a larger art project?
I love these ideas for creative art projects!
Try this creative winter art project with inventive painting ideas!
There are endless ways to craft and create snowflake crafts for kids this winter. But you don't need to totally DIY everything either.
Take the super easy route (I'm all about that!) and try these craft kits! I love these (affiliate links):
What's your favorite way to make a snowflake? Share your best ideas and pictures with us!