WinterAll AgesOutdoor
Snow152 Comments
Winter is coming and these fun things to do in the snow will come in handy!
Whether we like it or not. Snow will eventually fall (at least for us up north… we're in Iowa, so its bound to happen).
It always seems hard to get outside in the cold (it especially will this winter with a newborn), but the older boys still will want to get out there and play in the snow!
MORE ACTIVITIES YOU MIGHT LIKE
Since the sandbox will be covered… what can the kids do outside?
I've made a list 10 fun outdoor snow activities that I want to do with the kids this winter. Our winter/snow bucket list, I guess.
Get dressed warm and get outside!
10 Fun things to do in the snow – Outside!
Go sledding! Get a sled, make a sled out of cardboard, and just go!
Build a snowman. Roll some balls, big or small. Build a snowman together. Find rocks for eyes, twigs for arms, and wrap him up warm with a hat and scarf!
Have a snowball fight! Show the kids how to make a snowball. Have target practice. Set up something to throw at and let the kids get some practice in throwing!
Build a snow fort. Pack the walls together to build a safe place for hide out! We have a brick mold builder (affiliate link) that the boys use in the sandbox and for snow!
While you're out shoveling the driveway or sidewalk, let the kids help! Or have them make their own paths… maybe a snow maze!
Stomp through the snow and make footprints!
Instead of making your own footprints, look for animal prints! Do you find rabbit prints? Squirrels? Deer? What's in your backyard?
Get creative outside in the cold! Paint the snow! Make it colorful!
After a fresh snowfall, go lay out in it and make some snow angels together. Make a whole family!
And, one that will surely be a hit with my boys. Load. Dump. Scoop. Pour. Do it in the snow!
When you're getting outside in the cold weather, be sure to dress warm and take precautions! And be prepared to warm them up when you get inside! Have a cup of hot chocolate waiting for them with little marshmallows on top!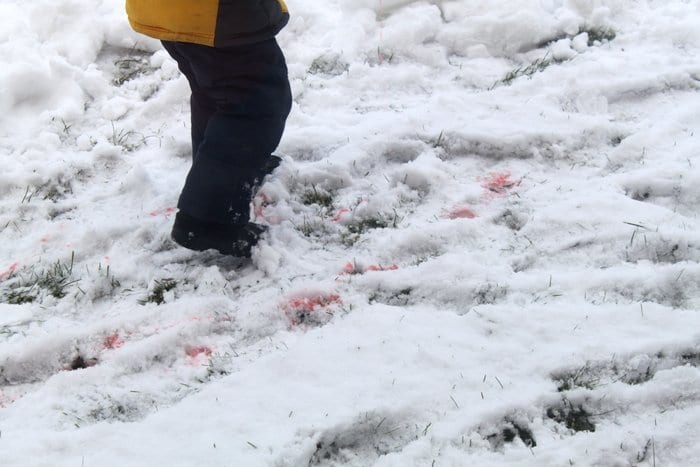 What are some other fun things to do in the snow that your kids love to do?