Learning
WinterPreschoolersColors
Snow22 Comments
Try coloring snow in the yard as a fun winter art activity for kids!
Winter in Iowa means chilly temperatures and snow. Lots of snow.
One day, Henry and I took a look outside the window and I asked him, "Isn't it pretty?"
Henry's response: "No. It needs color to be pretty."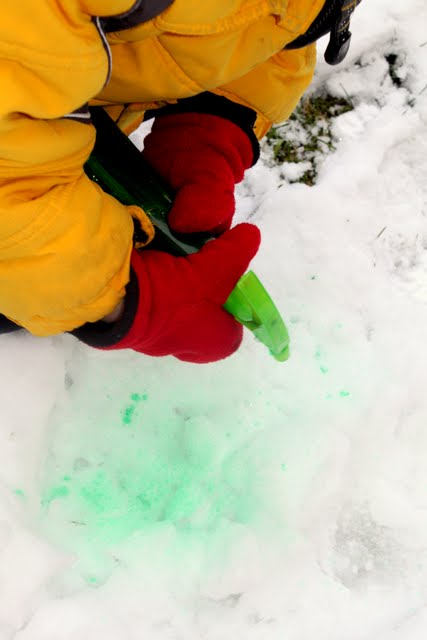 While I love white fluffy snow, I also like a bright splash of color. And that's my inspiration for our latest activity: coloring snow!
DIY Coloring Snow Winter Activity for Kids
And so we went right ahead and added some color to all our snow!
To try coloring snow, you'll need:
Spray bottle(s)
Water
Food coloring.
Other tools: syringes, scoops, eyedroppers, a turkey baster, etc.
We did red and green since this was a pre-Christmas activity. To mix the colored water, add a few drops of food coloring (any color!) to your container(s).
Try squirt bottles, eyedroppers, turkey basters, water guns, or buckets. Honestly, whatever you have on hand is just fine.
After you've added the food coloring to your container, then slowly add the water. Adjust the color by adding more food coloring or more water.
Ultimately, you want a nice strong color so it shows up on the snow. If you don't want to use up all your food coloring, you could also try adding dry tempera paint, liquid or dry watercolors, or other paints to water.
We also like to make these ice cube paint popsicles!
Make Big Snowy Art in the Yard
I put red-colored water into a bucket and the green water into a spray bottle.
Once everything was ready, I set the spray bottle and bucket in the yard, along with a bin of tools. We used a turkey baster, a scoop, and a dropper.
Henry worked on coloring the snow all over the yard! I loved watching him drip and spray the "snow paint" everywhere!
I joined in the fun, writing "Ho Ho Ho" in the snow. We were getting ready for Christmas, after all!
I think next time we do this we'll mix it up a bit. I'm already thinking of these ideas:
Color Mixing: try adding different colors together to make a new color
Writing: make letters, words, name, numbers, shapes
Scavenger Hunts: try finding different objects in the yard, marking each spot with the snow paint mixture
Create Big Art: work on coloring the snow with all different colors of paint to make designs, scenes and more
Just be careful of cold fingers if they're getting wet.
If it was super cold, I would have probably stuck to just the spray bottle so his fingers wouldn't get wet.
But since it was a nice day and the sun was shining, I let him dip in the water and have a good time.
Once we get snow again, we'll definitely be adding color to it some more! We'll have to get creative with how we do it if it's too cold!
Everyone Loves Coloring Snow!
Snow painting is nothing new I created. In fact, I grabbed my inspiration for the activity and the recipe from these posts:
What's your family's favorite snowy day activity? Share your ideas with us!