Learning
WinterPreschoolersColors
Snow12 Comments
Color snow in the yard as a fun, art activity in the winter!
We were graced with a warm day (32 degrees) with a light dusting of snow (a couple inches) just before Christmas. My Christmas wish came true! We barely had a white Christmas, but we did!
The morning the snow fell, Henry and I took a look outside the window…
… and I asked him, "Isn't it pretty?"
Henry's response…
"No. It needs color to be pretty."
So we did and activity to color snow that afternoon to have a beautiful yard of colored snow!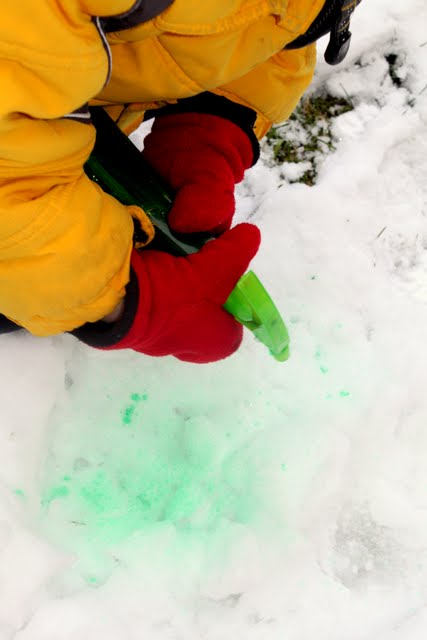 I stocked Henry up with some supplies:
A spray bottle with water and a few drops of green food coloring.
A container of water with red food coloring added.
Syringes, scoops and a turkey baster.
If it was super cold, I would have probably stuck to just the spray bottle so his fingers wouldn't get wet. But since it was a nice day and the sun was shining, I let him dip in the water and have a good time.
Henry took the color all over the yard.
I even made a Ho! Ho! Ho! writing in the snow, just in time for Santa to come.
Just be careful of cold fingers if they're getting wet. Once we get snow again, we'll definitely be adding color to it some more! We'll have to get creative with how we do it if its too cold!
Snow painting is nothing new I created.
Lots of kids color snow!
Have you colored snow yet?