WinterToddlersIndoor Activities
Snow13 Comments
This marshmallow snowman craft is a seasonal way to stay warm and work on fine motor skills!
It's been a little snowy outside and Henry has yet to actually get out in it and PLAY. He's been outside, but it's usually to help Dad shovel the driveway. And he doesn't last too long. He's a smart boy – he knows he's cold and he just comes inside.
Anyhow – so I thought it was time to make a snowman. And since it's really hard to get outside myself with a 3 month old. Henry and I made one out of marshmallows! I found this one over at No Time For Flash Cards again (I tell ya, that blog is AWESOME!).
MORE ACTIVITIES YOU MIGHT LIKE
To make this marshmallow snowman is easy and quick.
I did most of the prep work – drew the snowman, face, buttons and arms of the marshmallow snowman.
I left the nose off and we just used a scrap piece of orange paper and cut a triangle – Henry glued it on all by himself (he LOVES that glue stick!).
The fine motor part of this marshmallow snowman craft:
Then I outlined the snowman in regular glue and Henry went to town adding the marshmallows. He followed the outline perfectly – I was quite shocked. He did like to smash the marshmallows to make them stay in their place.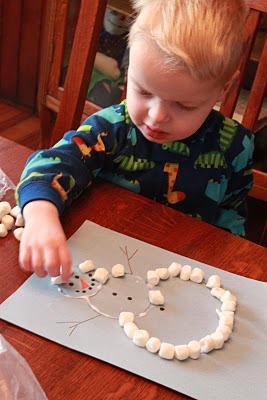 We decided to add some snow to the bottom of the snowman with some cotton balls.
Henry loved to tear them up.
It's now hanging proudly on my fridge (my favorite part of doing this).
This marshmallow snowman craft was one of the very first crafts I did with my kids (just Henry when he was about 2.5 years old). It definitely brings back all those warm fuzzy memories when I look back at it. (Remember the reason we do activities?)