Art Projects
Crafts
PopularToddlersResources32 Comments
Toddler crafts and art ideas can be fun to do when you have the right expectations. Try these 30 ideas for lots of toddler fun and craftiness!
But its hard for this age to get crafty.
I mentioned a while back that toddler activities are the hardest for me to come up with.
To make it even more specific, toddler crafts and art projects, activities that are creative activities, like art or crafts for toddlers, are that much harder!
Why is it so hard at this toddler age? They generally like everything right?
But toddlers do tend to not have full control of their body movements, nor do they understand how to be creative (in the way that you expect them to be).
And let's not count that they're completely messy with everything that they do, and this tends to make us shy away from toddler art projects in general.
With that said, I'm going to repeat (because I think it applies here as well) what I said in the 50 Activities Just for Your Toddler about what I consider a toddler, as well as how I have the best luck with my own toddler:
I consider a toddler to be roughly of the age of 1 to 3. When they start moving [walking] until they're able to learn and apply what they've learned to other situations.Tips I have for doing activities with toddlers are just a few:
Allow your toddler to explore whatever it is that you give them.
Don't do an activity with an intentional plan, it never works out with this age range.
Expect a toddler to be interested, leave it out for them to come back to later, or even the next day.
Plan for them to put it in their mouth if you have a mouther.
I also highly recommend the The Toddler's Busy Book (affiliate link), by Trish Kuffner. It always has something in there that sparks an activity for us.
Three quick tips for the more artsy, crafty types of activities that I've found to work well with toddlers:
In general, I've found that making art bigger usually works better with toddlers. They're going to get messy either way. This gives them the creative control.
Use unconventional materials to make art or do crafty things with. The exploration of the new material makes it exciting for them!
Try doing whatever you're doing with movement, instead of sitting in a constrained chair.
Onto the good stuff.
You can also find quite a bit (hundreds actually) of indoor activities for kids to keep the fun going.
30 creative toddler crafts and art projects to try!
Toddler Art Projects
Activities for toddlers that focus on the process of creating the art, rather than the outcome. Try new materials and treat it as an exploration, or even a sensory activity.
More art projects for kids: 10 art projects for preschoolers and 21 spring art projects for kids.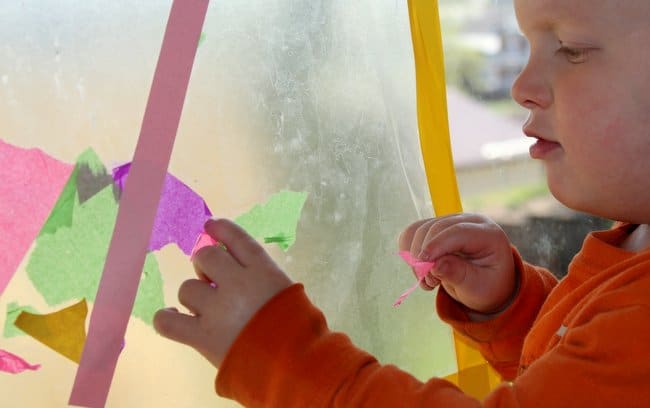 Crafts for Toddlers
Activities for toddlers that are geared more toward the craft than the process, although the process is still important, there is usually some outcome of the product.
More crafts for kids: 36 simple spring crafts for kids and 28+ winter crafts for kids.
Other Toddler Creative Projects
Creativity can happen in all sorts of places, not necessarily as an art or craft project. A toddler's mind is creative without trying, so let them explore and see what they come up with!
Since I have such a hard time coming up with ideas for toddler crafts and art ideas, I'd like you to add to this list.
More crafts by the season:
How have you gotten creative with your toddler?