Big Art
Gross Motor
Valentine's DayToddlersPainting10 Comments
This is a super fun, active way for toddlers to make Valentine's Day art! So, literally, get moving and get creative. A bonus, this Valentine's Day art is also a no-mess art activity!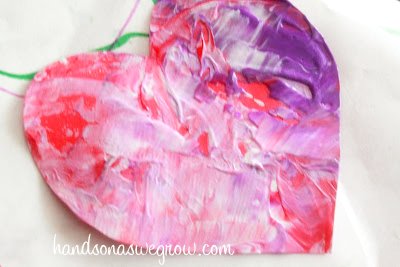 We're kicking off with some Valentine's Day art for this fun holiday with some shaken painted hearts, an idea I got from Toddler Approved!
This was such a fun no-mess craft to do – with crazy pretty results!
Use some sort of container that you can close up tightly – we just used a box we had lying around.
I cut some paper hearts out of construction/scrapbook paper. We used purple, pink, bright pink and red. I double-sided taped them to the inside bottom of the box.
Dump in some random toys you have lying around that you can clean up easily, or you don't care if they get messy.
Put a few blobs of paint in the box. Not on the hearts though. We used purple, pink, red and white paint. Crayola washable paint rocks! (affiliate link).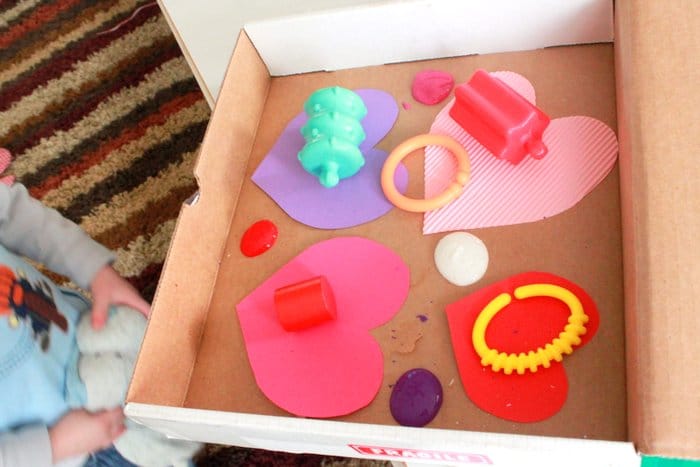 Shut the box. I taped it to really seal it up.
Then… shake shake shake!
And shake some more!
Open it up and check out your results! Shake some more if you like.
Continue on until you've create enough Valentine's Day hearts for a garland to hang up…
Clean up your toys while you're waiting for the hearts to dry. Encourage toddlers and other young kids to clean up as part of the activity. This makes it fun plus you get the area cleaned up as well!
Once dry, you can hang up this Valentine's Day art!
I cut slits in the tops and strung a pretty pink ribbon through them and hung them on our mantel. Or you can make cards with them…
We only made 4 this time – but we'll be doing it again to add to our string.
Have fun shaking!