ParentingAll AgesClean Up
Resources12 Comments
Cleaning is a part of life, unfortunately.
Why not start at a young age?
I like to include clean up as part of the activity we're doing.
Making it fun makes it seem more like something we get to do, rather than have to.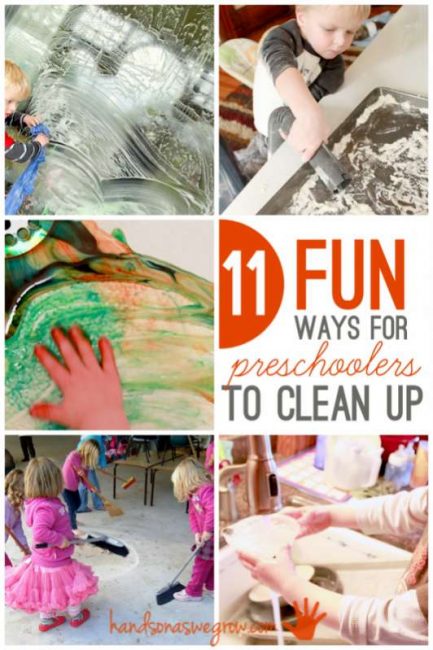 Henry usually goes with my ideas and generally loves the clean up better than the activity itself.
I think it makes him feel important and that's he's doing hard work. All the better!
A life lesson and my preschooler feels good about himself, all while having a good time! (And plus the house gets cleaned!)
You may be impressed, but Henry can help out a lot around here.
1. Cleaning windows is one of my least favorite jobs, and frankly, it rarely gets done. Henry to the rescue.
2. Almost daily, Henry scrubs the tub during his bath, but he also cleans the shower.
3. One of the most fascinating ways to clean for a preschooler is with the vacuum.
Whether its with the big vacuum, or with my little stick vacuum, or even Dad's shop vac, Henry is a sucker for the vacuum.
4. After snotty noses goes through the house, or when the toys get dragged outside, or if they get used for art, the toys do need to be cleaned on occasion.
5. Helping in the kitchen is usually the best way to distract Henry from anything else.
Pouring, mixing and his favorite, turning the mixer on and off. He loves to help in the kitchen.
6. After some baking, there's always dishes to wash.
7. And after baking and washing dishes, the counter definitely needs a good scrubbing.
8. One of my least favorite parts of doing arts or crafts is the glitter that's often involved.
Luckily, I found a terrific way to clean up the glitter. And even better, Henry can do it.
Henry's not the only preschooler that gets a kick out of helping around the house.
9. Why not have them help with sweeping up the floor by making a target for them like Sugar, Spice and Glitter.
10. Get even the stubbornest kids to help pick up toys by using tongs only to pick up the toys.
A nifty idea from Nicole at The Activity Mom.
11. And now that you've got your good little helper all ready to go, make sure you keep them on track with a simple chore chart like Rachel at Kids Activities Blog made.
Do you have a little helper in your house?
What do they do to help out?