ActivitiesToddlersPreschoolersBlocks
Busy Play
Clean UpLeave a Comment
Does this look familiar to you? A tub of blocks, dumped out all over the floor?
This constantly happens in our house. Any tub of toys gets dumped out in its entirety. Blocks are very common to be strewn about the floor.
And this time it happened while I was trying to get dinner on the table and it was right in the middle of our foyer. To entice the boys to pick them up, as well as keep them busy while I was cooking dinner, I made it a little game for them.
Transport the blocks from being strewn about all over the floor into baskets that I set out in two different places, one for each of the boys to fill.
I tried to make it a competition to see who could get their basket filled with blocks first, but my kids aren't quite to that stage yet.
Instead, they surprised me and worked together. Filling up the baskets with blocks together.
They both used a dump truck to transport the blocks from the mess on the floor to their baskets. But the baskets weren't at a good height to just dump the blocks into.
George ended up dumping the blocks on the floor only to pick them up again and put them into the basket.
Henry managed to make the dump truck work and lifted it up to dump the blocks into the basket.
Either way works for me!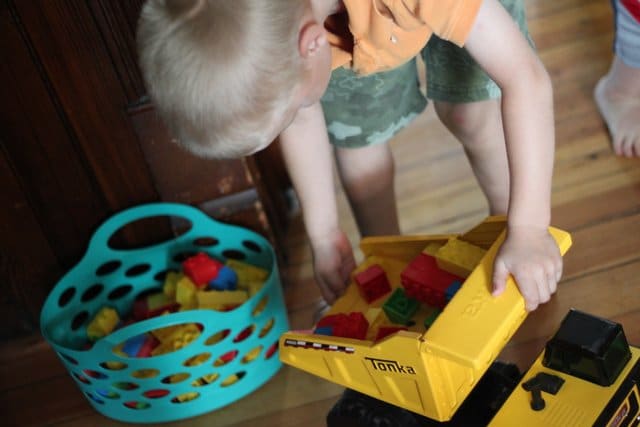 Once they filled up the baskets, they were to dump them into the block tub and then fill up the baskets again with more blocks.
Why this additional step to picking up the blocks made it more interesting, I'm not sure. But it worked.
Henry even got fancy in his block hauling.
He lined up the blocks by color (at least to start out with!). He was pretty proud of this and called me over to check it out before he dumped it out.
Are your kids 'dumpers'? Do they dump out every tub of toys you got?
What are you tricks to getting the kids to pick up their toys?
Or, how else do you manage all the toy chaos?
We like hauling blocks! Henry does it quite often.