ActivitiesAll AgesBlocks
Resources71 Comments
I put together this list of lots of block activities for preschoolers and even toddlers using common blocks that are found in most homes – wooden blocks, Legos, and ABC blocks.
We tend to have blocks out a lot around here.
Whether its legos, or wooden blocks, or our ABC blocks (these are all affiliate links, thank you for your support!), we include them in a lot of the activities that we do.
Blocks are kind of a staple in most households, am I right? Boys and girls both like blocks. They're a lot of fun!
MORE ACTIVITIES YOU MIGHT LIKE
Turns out, kids can learn a lot from these simple toys. But, what exactly?
Childhood 101 goes into some specifics of adding literacy to the block corner, and Picklebums gives us a little insight on why block play is so important to kids.
And I've collected some wonderful ways to play with blocks, so we can maximize our use of these awesomely, simple toys (aren't the simple toys the best because they can be used the most ways?).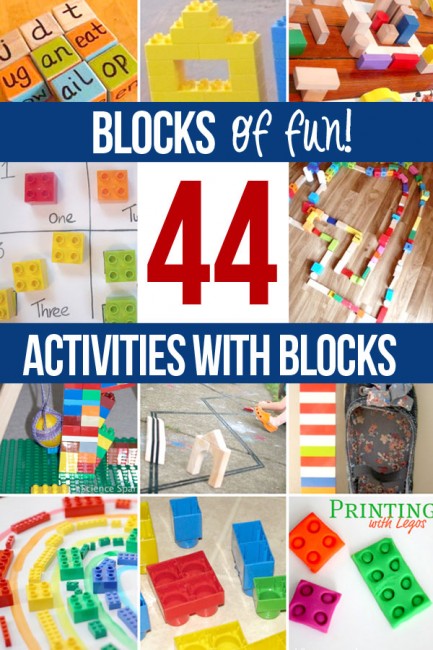 Here are 44 block activities for preschoolers to do!
I've included 18 ideas for the simple wooden blocks, 17 activities for Legos (also includes Duplo or Mega Blocks), 4 learning activities for the ABC blocks, and I couldn't leave out ideas to build with your blocks, so there's 5 building activities for the kids as well.
An ongoing collection of these and more block activities found on Pinterest: Blocks of Fun!
What simple toys are a staple at your house?
Find 35 uses for crayons too! You can do way more than just color with that box of crayons!