Art ProjectsPreschoolersResources11 Comments
Art activities get so much more intricate and focused when toddlers become preschoolers. Its amazing what a year means in these young ages!
Since Henry has been a preschooler, he has become a little more focused (believe it or not…). Which means the art projects, as well as other activities, we do can also be a little more focused. And George is right behind him, almost a preschooler himself! He'll be doing these art activities in no time!
Big Art is great for toddlers and preschoolers that can't or don't want to sit still to create. When they get a tad older (think older preschooler age), their fine motor skills improve, along with their attention span and ability to focus on the project at hand. Of course, the age in which a child can do this will vary, so take a look at your toddler or preschooler and see where their own skills are at.
These are 10 art activities that we've done recently that take just that tad bit more focus and understanding to do, and I think are perfect for the preschooler age. Of course, there's usually a way to incorporate a toddler into the mix, since I have both a preschooler (soon a kindergartener!) and a toddler.
Note: The collage below is interactive, a new feature I'm trying out from Memetales (excited!), so feel free to click around on it, hover over the images to see what each art project is. Of course, below there's a list to find out about each of the activities as well.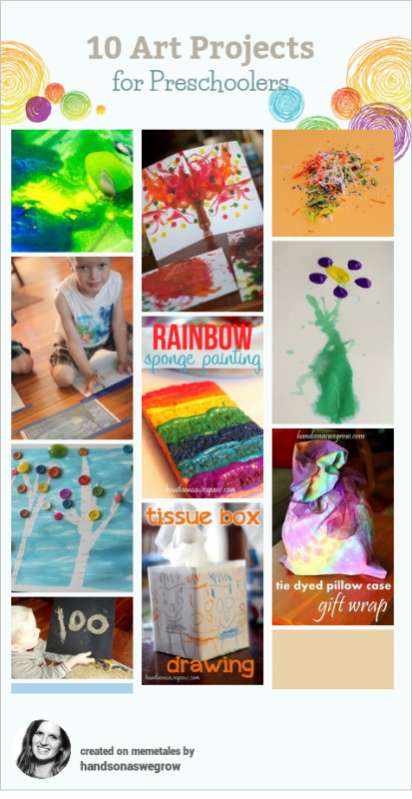 Here's some of our art activities that are perfect for preschoolers:
(listed by going down the columns, because that seems to be the easiest)
Learn about mixing colors. Perfect for a hot day. Freeze some cubes of paint (in 2 or 3 of the primary colors) and take it outside in the sun to melt as they paint. When they run together see what colors it makes!
Copy a masterpiece. Print out a masterpiece (such as Starry Night) and set it beside them to try to draw themselves. It's quite impressive what they'll find in the piece of art as they study it themselves to draw.
Amp up tape resist art. Instead of just chunks of tape around on a piece of paper, or you doing it, have them tear or piece of tape to create a picture! Add details to the finished tape resist art.
Add sensory to art. We used sand, but really anything can be in its place. Flour, salt, sugar, dirt, rice, tissue paper.
Try pulling string to create art. This one takes a little patience, understanding and coordination. But nothing a preschooler can't handle. Its kind of magical to see what designs will be made!
Rainbow sponge art. Yes, toddlers can do this. But preschoolers can take the care it needs to actually make this a rainbow!
Add special touches around the house. Preschools are just getting into drawing, so design or draw a wrapping for everyday items such as a tissue box. What else can use a little sprucing up?
Shave crayons and melt them! It's great for fine motor skills to make the crayon shavings. And the designs they make can be so cool (ahem, learn a little about color mixing in the process)!
Use multiple painting techniques together to create a piece of art. Along with patience to put it all together, preschoolers will have to follow directions to make it right. But it's really simple!
Tie dye something together! A t-shirt, a pillowcase, a sheet! They'll love a special touch to wear or use that they can say they made! Try different tie-dye effects too. It's all about the rubberbands!
What's your favorite art activity to do with your preschooler?