Art Projects
Valentine's DayToddlersPreschoolersCrayons19 Comments
I've seen various ways to make melted crayon art around, so we wanted to make one ourselves using crayon shavings.
Henry, Grandma and I made some pretty art with crayon shavings!
And it was fun to do!
The crayon shavings are what makes this art so pretty, but it also gave Henry some time to work on his fine motor skills.
Henry did his own pile of crayon shavings with the pencil sharpener. He went for the bright, fun colors for his art!
I had Valentine's Day on my mind. So I picked pinks, purples and red crayons to make shavings out of.
(Note: I used a cheese grater to shave mine, while Henry used the pencil sharpener. The cheese grater was much quicker and easier, but Henry wouldn't try it!)
How to Make Melted Crayon Art using Crayon Shavings:
Simply sprinkle your crayon shavings onto a piece of paper. I used Pearlescent Scrapbook Paper (affiliate link).
Draw a design in it with your finger if you'd like. I drew a heart, since Valentine's Day was on my mind.
How to make the crayon shavings stay? Simple. Cover your design with wax paper.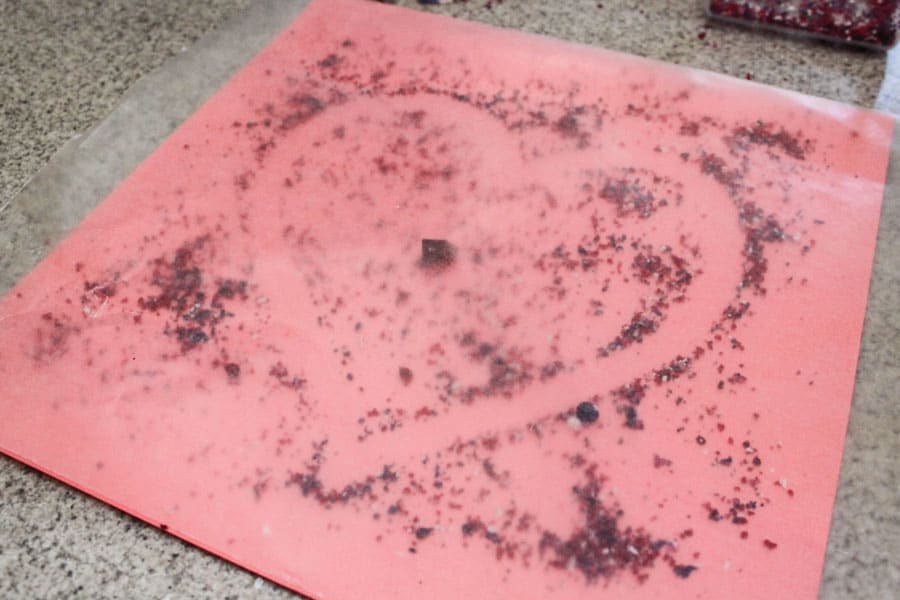 And iron it! Be careful to just press and lift up the iron.
Don't slide it, the crayon shavings will smear!
Henry drew roads in his crayon shavings. He also tested his roads out…
Again, just lay a piece of wax paper over the entire design.
And press down with a hot iron until the crayons have melted.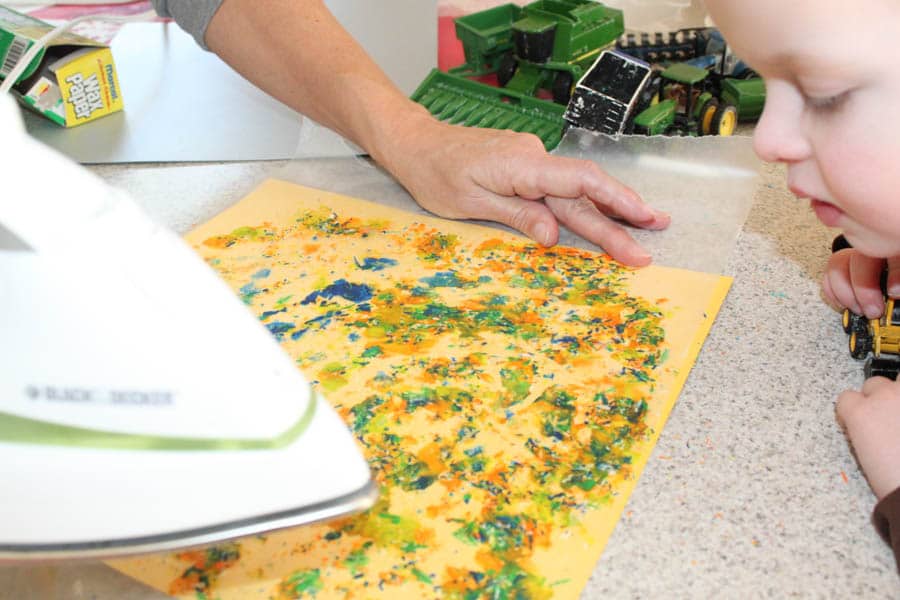 Beautiful, huh?
The idea of this came from Housing a Forest where they used watercolor paper and sprayed it with water to get a very cool blended affect. I didn't have the watercolor paper, so we did it without the water.
Oh, ahem…
We did try the infamous hair dryer method of melted crayon art. It failed miserably by the way.
We first glued down some crayons with hot glue and set the hair dryer on it. A couple of crayons melted.
But even after 20 or so minutes and a preschooler that got bored and left… And even after breaking out a second hair dryer to speed up the process…
… There were still crayons that weren't even close to melting…
So, my mom and I finished off the process by slapping a piece of wax paper over it and ironing it down to melt the crayons.
Oh well.
There are some beautiful pieces of crayon art that were done with the hair dryer method. Ours just isn't one of them…