Literacy & ABCs
Valentine's DayToddlersABCs
Letters
Lowercase Letters21 Comments
Recognizing letters and learning their ABCs is one thing for a preschooler to learn, but learning both upper and lowercase letters I found is completely another.
I had no idea what Henry knew at this point when it came to upper and lowercase letters. He could recognize most uppercase letters for sure, but lowercase I really didn't know…
I found this incredible site: File Folder Fun – I'm in love with all the printables I found there for intentional learning activities! And they fit nicely in a file folder for easy storage.
They have themes and whatnot, and I found one for Valentine's Day to work on matching upper and lowercase letters!
Download the matching letters printable here on File Folder Fun

Match the upper and lowercase letters of hearts
I really wasn't sure if Henry knew his lowercase letters, so I thought this might be a nice test just to see what he knew. Not to really push him into learning it, but more as an evaluation or assessment of his knowledge.
Plus they are hearts so even more fitting for Valentine's Day coming up!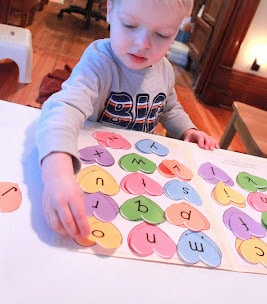 Henry surprised me and knew probably 75% of the lowercase letters.
He had troubles with some, which was mainly because of the font of the letters ('I' was just a straight line, 'J' had no line on the top, 'q' had no curly q fora tail), so I markered over them.
I've found that there are many letters that are really hard to differentiate when they're lowercase, 'b' and 'd' often get mixes up, as well as 'q' and 'p'.
As Henry has grown up a lot since doing this activity, we're still working on letter recognition, just to reinforce it. We recently made a bead bracelet for Valentine's Day that he also worked on matching upper and lowercase letters to make words.