CraftsPreschoolersContributor6 Comments
Kate's here today to create a challenge for you. Are you up for it? Or, more correctly, I should ask, are your kids up for it? This is a challenge directed to your kids to help in 'those moments' and I bet you'll find yourself having fun doing the challenge with your kids too!
Kate is the amazing mom and author behind Picklebums. Full of beautiful children (four!) and beautiful photography (not to mention full of activities with some parenting tips along the way), Picklebums is a must see, check out now blog, if you haven't done so already.
She is yelling at him, he is crying, the other one is doing cartwheels in the lounge room and the baby is desperate to go to bed.
You just need something, anything, to change the tone, to break the cycle, to buy yourself a little snippet of peace, before you lose it completely!
That's when I go slightly loopy and skip around singing, "Challenge time! It's challenge time!"
In our house, that is the cue to stop whatever you are doing and assemble at the dining table to await your challenge!
When I first came up with this crazy idea I wrote a post for my blog, Picklebums, titled: 30 Minute Challenge.
For my girls (twins who are almost 8), a 30 minute challenge is perfect as once they start something they often don't want to stop, even when the time is up.
It can shift their focus from something negative to something positive without the need for me to rant and rave.
It works the same way for my 'Big Boy', a distraction and redirection to something more positive without conflict, bribery or yelling.
But he has just turned four, and 30 minutes is often a bit long to expect him to focus.
So for preschool-aged children I have revised my challenge rules and created the Ten Minute Challenge.
The rules for the Ten Minute Challenge are simple:
Challenge your kids to complete a task in ten minutes.
Collect any materials you need, issue the challenge and set a timer.
The rest is up to the kids!
Here are ten challenge ideas suited to preschoolers to get you started:
Build a zoo/house/robot out of…
Draw a map of…
Make up a dance to…
Run to the big tree/fence/light pole…
Hop ten times, turn around twice, jump three times…
Pick up 20 things off the floor…
Find as many yellow things as you can…
Collect 5 leaves, 10 sticks, 2 feathers…
Sing as many animal/car/dinosaur songs as you know…
Build the tallest tower/longest line…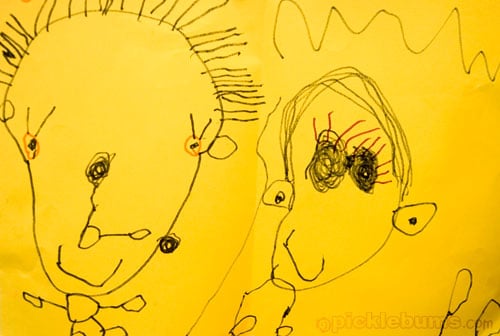 The point of our challenges is to change something not so great, into to something fun, so we try to keep the challenge ideas easy, enjoyable and sometimes a little bit silly.
This simple, crazy, idea has helped me to yell less and laugh more with my kids, and that makes us all happy!
Kate is an early childhood educator and mum of four (7 year old twins, a 4 year old and a 1 year old), living on a small property in rural Victoria, Australia.
Kate's blog, Picklebums, covers topics such as; gentle parenting, gardening, activities for kids, a recipe here and the occasional free printable, as well as anything else that pops up in her crazy life!