Art Projects
AutumnToddlersPreschoolersTree
Yarn7 Comments
The boys and I had a creative morning. I grabbed some paints in fall colors (red, yellow and brown), along with some canvas paper and Paint Dab Markers we received from CraftProjectIdeas.com.
I had a really fun, fall art scene planned for the kids to make with an art technique I've been wanting to try for ages!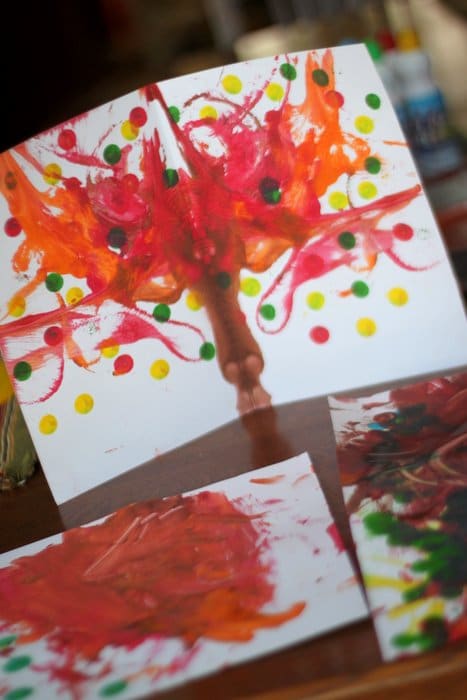 Turns out, the boys didn't want to try it that way and just wanted to paint 'the way they wanted'.
And that's okay.
Sometimes activities just don't happen that way I planned. Actually, usually they don't. That's what makes them great. I usually just go with the flow and see what comes out of it.
The boys absolutely loved the Paint Dab Markers. Henry mixed the colors together to see what he could come up with. George just loved trying each one of them.
While the boys explored their paint, I still went on to try this art technique that I've been meaning to try for so long. I did this for two reasons. One, to do a trial run of it to see if I had troubles with it, and to see how to show the boys to do it. Secondly, I was hoping to entice the boys to want to do it by showing them the art technique. It didn't work this time though.
Anyhow, I did a pulled string painting. Since I didn't get the boys to do it, I didn't think to take photos as I was going along. Recently, I saw pulled string painting done at Inspiration Laboratories, and she has great instructions to do it (with photos) that I followed (I did her Method 2).
In a nutshell, I had a piece of canvas paper folded in half. I dipped multiple pieces of yarn in the paint colors (red, orange and brown). I ran my fingers over them to smooth out the globs of paint. I laid them on one side of the folded paper. I kept them mostly towards the top half of that side too.
The trick to pulled string art is to leave the end of the string hanging off the edge of the paper. Once the string was laid out, I folded over the paper, and held it down with my hand as I pulled each string out. I tried to pull them out in multiple directions to get more variety.
Pretty cool art technique, huh?
I wanted to make this a fall colored tree. I added a brown trunk by the crease on one side of the paper and again folded the paper in half to continue the symmetry.
I then got the chance to play with the Paint Dab Makers and added dots of yellow, red and green paint throughout the tree.
My finished fall tree using a pulled string painting technique. I just love it. Maybe I'll entice the boys into trying it someday.
What do you do when your kids don't do what you plan on doing for the activity?
Share with a friend!