Art Projects
Mother's Day
SpringPreschoolersBottles
Flowers
Straws13 Comments
We love a good stamping craft and this spring flower art project is perfect!
I've been meaning to do bottle stamping for ages. And I'm so glad we did it as a flower art project! It was so simple!
Easy Stamping Spring Flower Art Craft for Kids
We were all in the mood to add a little spring color to our house. This simple spring craft was just the ticket!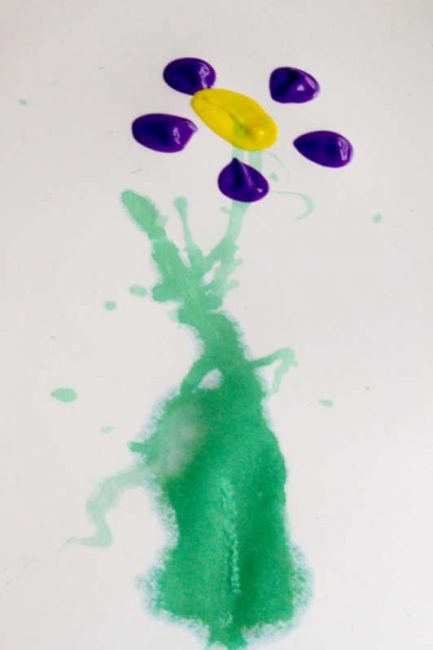 Plus, it's super simple. Even toddlers can handle stamping the bottom of a bottle into paint and onto paper.
To stamp your own spring flowers, you'll need:
empty soda bottle
paint
green food coloring
water
dropper or syringe
paper
straw
Try 36 simple spring crafts and 21 spring art projects for kids!
Even though the actual stamping is really simple, it's still three steps to get to the finished project. I'm actually amazed that Henry took to this activity because it was on one of those days.
But he really, really enjoyed it.
And we got some great artwork for the wall just in time for the flowers to start popping up outside! Anyone else as super excited as I am for that first bloom?
Get Stamping for Pretty Spring Flower Art
I was going to say that the straw blown stems was his favorite part… but now I'm not sure! Every step was really fun!
To make the stems, I dropped a few drops of green food coloring into a small bowl of water. Henry used a dropper/syringe to squirt some in one spot on the paper.
Then he blew it, using the straw, as far across the paper as he could!
Once the paper was filled with flower stems, it was time for the flowers to "bloom." See what I did there?
I put some purple paint in a small dish just big enough for a soda bottle to fit into. Henry dipped the bottle into the paint and printed flowers on the top of his stems.
For the finishing touch: the flower center.
With a quick dip of his thumb into some yellow paint, Henry added the centers to the flowers.
These 10 stunning flower crafts are perfect for homemade gifts or cards!
That's it! His flower art project is complete.
What are your favorite spring flower art projects? We'd love to share your creativity with our community!