Campaign
Fine MotorToddlersBottles
International Delight
Upcycle
I always love to figure out what to do with a plastic bottle.
There's always so many options when upcycling plastic bottles!
I usually tend to thing crafty things can be made from plastic bottles, but they're also great for doing things for activities with the kids. Such as our sand and water scoop, or the catch the ball toy.
Louis got a chance to get in on the action this time. And it was even a little bit of fine motor practice!
There was really nothing I did to 'make' this bottle into an activity.
I simply set out an empty plastic International Delight bottle along with some colored craft sticks (affiliate link) inside of it.
International Delight and I are partnering together to bring you some fantastic ideas for their bottles this fall. Just FYI, Apple is not a participant in or sponsor of this promotion). I've been brainstorming some great ideas for bottles, I'm so excited to try them an share them with you! But I'm always welcoming ideas, what is your favorite thing to do with a plastic bottle?
Tell me in the comments what to do with a plastic bottle!
For Louis, I made it a simple fine motor activity to put objects into it and take them back out, and repeat!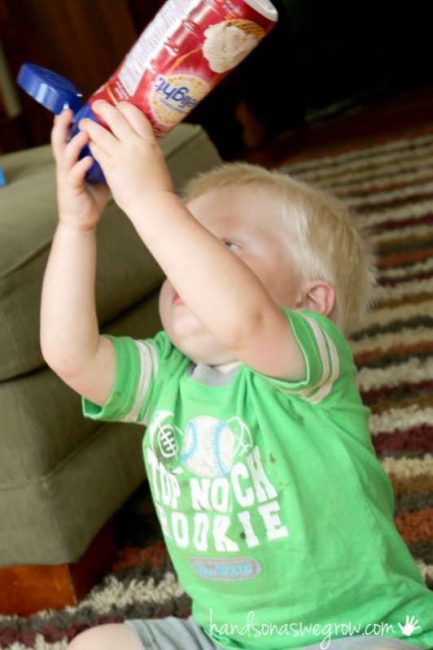 I left the lid on the bottle. The International Delight lid is perfect for this activity.
It added the element of opening and closing. Plus is makes the opening in the bottle even smaller which in turn proves to be great for his coordination and fine motor skills.
The craft sticks didn't have to be colored, that's just what I had on hand. And if you don't have craft sticks, try pom poms, or ribbons.
But it also adds an element to the activity to learn colors.
George even played for a bit and sorted all the craft sticks by color and put them into the bottle bunch by bunch. Seeing how many he could squeeze through the lid at one time.
But for Louis, it was all about concentration and getting that stick into the bottle itself.
And then shaking it out again, of course. What toddler doesn't like to dump things out?
More ideas for what to do with a plastic bottle:
Do you have a favorite International Delight flavor?
Have you tried their new fat free and sugar free line of your favorite flavors?
Be in the know of their newest flavors by sharing in the delight on their Facebook and Pinterest pages.
This is a sponsored conversation written by me on behalf of International Delight. The opinions and text are all mine.