Learning
Move & Learn
Spring
St Patrick's DayPreschoolersColors
Rainbow Activities
Scavenger Hunts18 Comments
Go on a color scavenger hunt around the house for what's already all over. The toys! Find them in every color of the rainbow!
We're going on a color toy hunt!
A hunt for toys in the colors of the rainbow.
I started with drawing a rainbow on a large sheet of butcher (art) paper.
(That's it! Not much for prep!)
I sent Henry on a scavenger hunt for small toys of each color of the rainbow.
We had a fun time searching around the house for each color.
Henry arranged the toys onto the rainbow I drew to make a rainbow.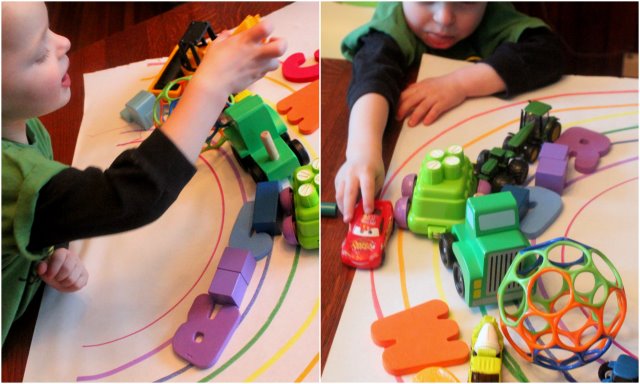 It took a lot of toys!
And some testing to see what toys 'fit' onto the rainbow (some were way too large to place on such a small line).
It was a fun color scavenger hunt to do with Henry, plus we just love rainbows.
And Henry wanted to keep our rainbow toy collage set up.
It was hard to keep George from it, but we did manage to keep it for a couple of days, when Henry was ready to put the toys away. Another adventure of using his dump truck to haul them all.
Some other scavenger hunts of ours:
There are so many fun color scavenger hunt ideas! Check out this color hunt from The Imagination Tree too!