Spring
St Patrick's DayPreschoolersColors
Rainbow Activities
Scavenger Hunts13 Comments
We love scavenger hunts! I took this one a step further than we usually do and made it a rainbow scavenger hunt with clues!
I even made the clues a printable for you to print off yourself to do your own rainbow scavenger hunt! (They're at the end of this post.)
There's a little prep work for this scavenger hunt. Print off the clues and cut them apart. Tape, or glue, each clue to a piece of construction paper in the colors of the rainbow. You can leave the violet one blank (I ended up removing the clue on ours), since that's the end of the rainbow, hence its the end of the scavenger hunt and there's no more clues.
Cut a cloud out of white paper and tape a clue to it too. This is the starting clue.
On each clue, fill in the "by a" box with an object that's easily identifiable (and accessible) in your house. If your child is beginning to read, you could put words in the box, otherwise draw the object!
Find more scavenger hunts for kids here.
Then you'll have to go hide your clues on those object! Its tricky, be sure to get the sequence right!
I tried to make these are friendly as I could for the youngest of scavengers. Henry (he's almost 5) had absolutely no problem with reading the clues after I read through the first one with him.
On each clue I made little eyes that says "Look for" written underneath.
Then its a row of the colors of the rainbow. I thought this would be the trickiest for him to understand, but he grasped it right away.
The point of the colors is to see what color you currently have and to see what color comes after that in the rainbow.
The last part of the clue is the object to look by that you drew, or wrote.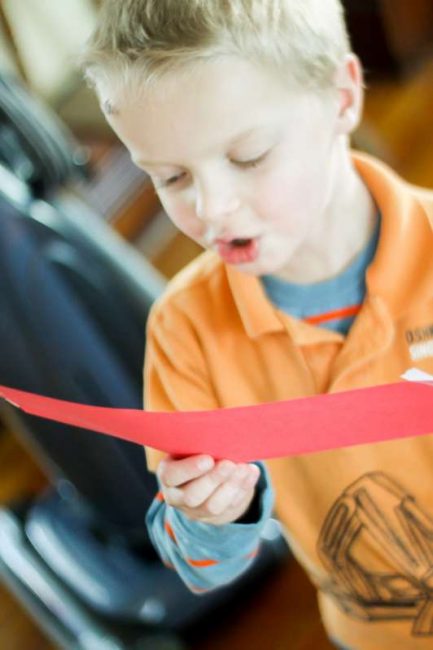 I read the cloud clue with Henry:
"Look for RED by a CHAIR."
Once he found the red slip by the chair, he was hooked!
I added another element to the hunt by bringing back the colored strips to glue onto a piece of blue paper, with the cloud.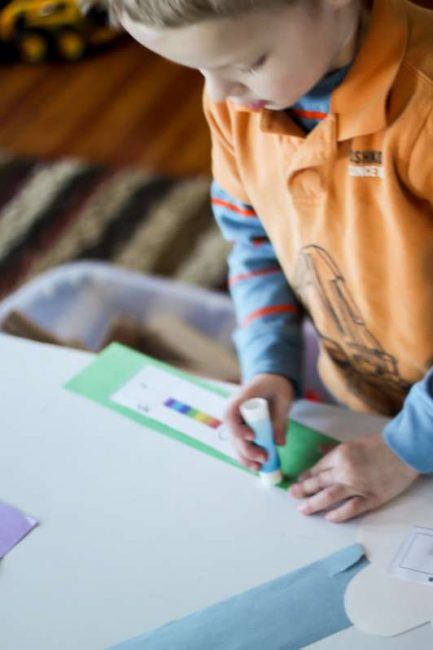 In the end, our rainbow scavenger hunt also turned into rainbow to put on display!
Rainbow Scavenger Hunt Clues Printable
Click the image below to print the PDF (or save it to your desktop for future use).
If you're a rainbow fan, you'll love our rainbow sponge painting and go on a color scavenger hunt to make a rainbow!