Art Projects
Spring
St Patrick's DayPreschoolersMy Favorites
Painting
Rainbow Activities69 Comments
I think kids of all ages will think that rainbow sponge painting is super cool! Girls, boys, toddler, preschoolers, grade-schoolers, all of them, this is a fun and magical way to make a rainbow!
I wish I could claim the idea of painting a rainbow with a sponge, but I saw it last year over at Strong Start.
While this is a kid-friendly idea, a lot of the prep needs to be done by an adult, or older child. And prep needs to be redone during the activity as well.
MORE ACTIVITIES YOU MIGHT LIKE
I kind of felt like an artist getting this ready. My pallete (a pizza pan) of paint in rainbow colors!
Simply swipe each color, in the order of the rainbow, onto a sponge.
I said the colors as I was doing this to teach Henry the order of the colors in a rainbow. (I had to reapply the colors onto the sponge multiple times.) By the end of the activity, Henry was reciting the rainbow colors in order with me.
And then I let Henry have the rainbow painted sponge and paint in any way he'd like.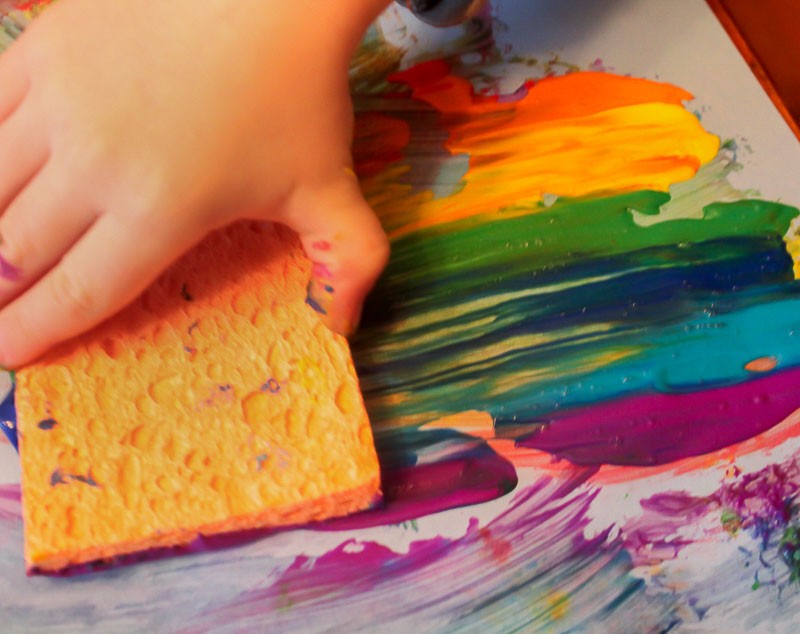 He filled his paper with rainbows.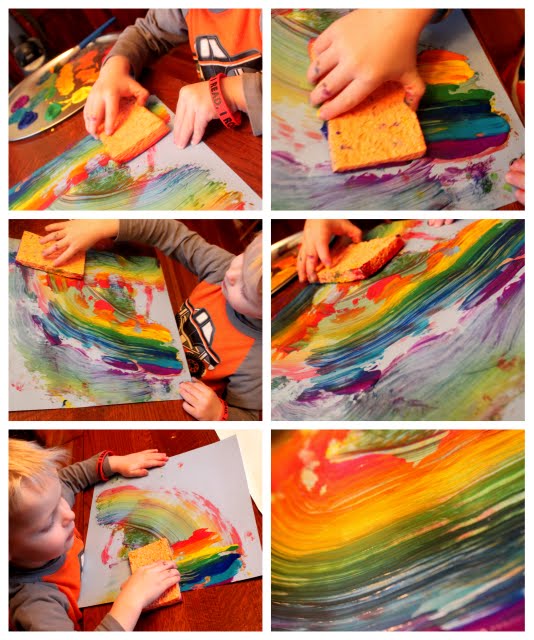 It was very colorfully painted, but the one sucky thing about using so many colors is that it turns to muddy brown when they're mixed together. (That's why we normally stick to two corresponding colors when we paint.)
By the way. See that bracelet on Henry's wrist? He got it from his preschool teacher for reading eight books in January. (I find it funny because I forgot to write out our slips for each book we read until the last week of January.) Eight books isn't many, but Henry is so proud of that bracelet.
Check out the rainbow craft made with Fruity-O's Henry made last year. And there's More rainbow activities for preschoolers have been shared by hands on moms and are so colorful!