Campaign
SponsoredBottles
International Delight
Outdoor
Upcycle
Water Activities
International Delight bottles are the best bottles to keep around for crafting, they're awesome to upcycle! We've had so much fun with them in the past [click to see our homemade telescopes and vases].
I'm excited to be working again with International Delight to bring you some more fun crafts this year that you can make with their bottles!
Its summer and my boys are doing one of two things: digging in the sandbox or asking to play with water. [Or in the mud! Click to see a photo of Louis enjoying their mud hole after a big rain.]
What better addition to their play than some homemade toys!
These bottles became simple sand and water scoops and funnels with just a few cuts!
By the way, my favorite flavors of International Delight: Caramel Macciato and Hershey's Chocolate Caramel. What are yours?
International Delight got a new look! How do you like it? Tell them!
Making their bottles into a water scoop and a funnel is really easy, the bottles pretty much do all the work!
To make a sand or water scoop:
Draw a line on the bottle to mark where to cut.
I cut off the entire bottom of the bottle and then, while laying on its side, I cut off the top half only half-way up the bottle.
Hard to describe, so I'll show with a photo instead.
Keep the lid of the bottle on. The kids can use the scoop as a funnel too then!
Quick tip: I found it easy to use a knife around the bottom of the bottle, but on the sides it was much easier to just use a scissors. It also gave it a cleaner cut.
To make the sand or water funnel:
Even easier, just cut off the bottom.
Again, keep the lid on the bottle.
That becomes the funnel access.
The kids can open and close it at their will. Giving them the ability to transfer sand or water better.
The boys took these out to the sandbox immediately and begin digging and scooping with them.
Unfortunately, it had just rained and our sand is taking forever to dry out. So the funnel part of the bottles didn't work for the sand.
But it did work great for water! Click here to see all of our water activities.
They transferred water back and forth, working together to do it, which was such a delight for me to watch!
George filled Henry's funnel up using the water scoop.
Henry kept the funnel lid closed until it was completely full and then he'd open it to let the flood of water out.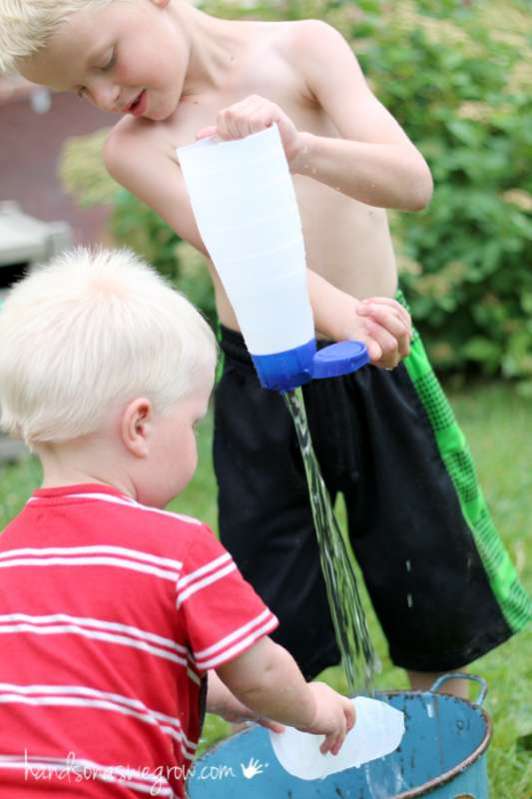 The joy in their faces was even more of a delight to watch!
They were even thrifty and used the part I cut out to make the water scoop. It was just as handy for digging and scooping too!
This is a sponsored conversation written by me on behalf of International Delight. The opinions and text are all mine.