Math & 123s
SpringPreschoolersCounting
Flowers
Nature4 Comments
We took a look around our house for flowers that were in bloom.
I asked Henry if he could count the petals on the flowers. Then I realized that he doesn't know what a petal is!
So we had a little learning lesson about flowers and what part the petal was. I didn't go into more detail of the flower parts than that, because (well one, I'd have to study up on them first) I didn't want to overload him with information. I always think its better to just talk about the subject at hand and leave it at that, unless he asks for more information.
Once we established what the petal is on a flower. We began counting the petals!
I wish I had more types of flowers to choose from because we only had these daisies (with 35-ish petals) and a few other flowers with 5 petals.
Henry helped me count through all the petals of the daisies. Making it all the way to 35. His counting has taken off extremely well! He gets stuck now on 20, 30, 40, not knowing what comes next. (Which surprises me because I figured at 19, 29, and 39, he'd have a harder time knowing that 20, 30 and 40 comes next… but its the 21, 31 and 41 that stump him.)
I plucked each petal of the daisy as we counted it, to make sure we didn't count them twice. Then we just assumed all the other daisies had the same number of petals.
Henry easily counted the 5 petals on the other flowers completely by himself.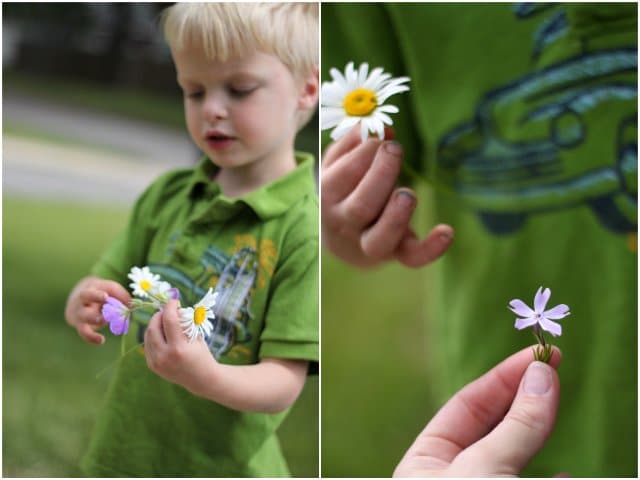 Once we had established the number of petals on each flower…
I tested Henry's memory and matching skills, as well as his ordering skills.
I asked him a few questions.
Do any of these flower have the same number of petals?
Can you order them from the least to the greatest number of petals? (Those weren't my words exactly, but that was the meaning of the question… I know I made it easier to be understood than that.)
Can you match up flowers with the same number of petals and group them together?
I think Henry thought I was dumb for asking. But he happily obliged.
Head on over to Tinkerlab for a gobs and gobs of flower activities for her monthly challenge.