Science
SpringToddlersKindergartnersNature
Outdoor
Scavenger Hunts17 Comments
Get outside and play with an easy nature scavenger hunt for kids! We love this simple gross motor play activity!
The boys and I had a much needed evening in our yard doing a nature scavenger hunt! The weather was perfect and we were all itching to get outside and play.
It was time to take a break from "work" and focus on the kids and just have fun!
And this scavenger hunt was such a fun way to kick off the summer.
We've got lots and lots of super fun scavenger hunt ideas for kids!
We started out just looking for flowers and leaves that caught our eyes. Eventually, I decided to up the ante and make our casual activity into a true scavenger hunt!
Easy Outdoor Scavenger Hunt for Young Kids
We turned it into a nature scavenger hunt and collected items to use later on for yet another activity we found in the Camp Mom Pack.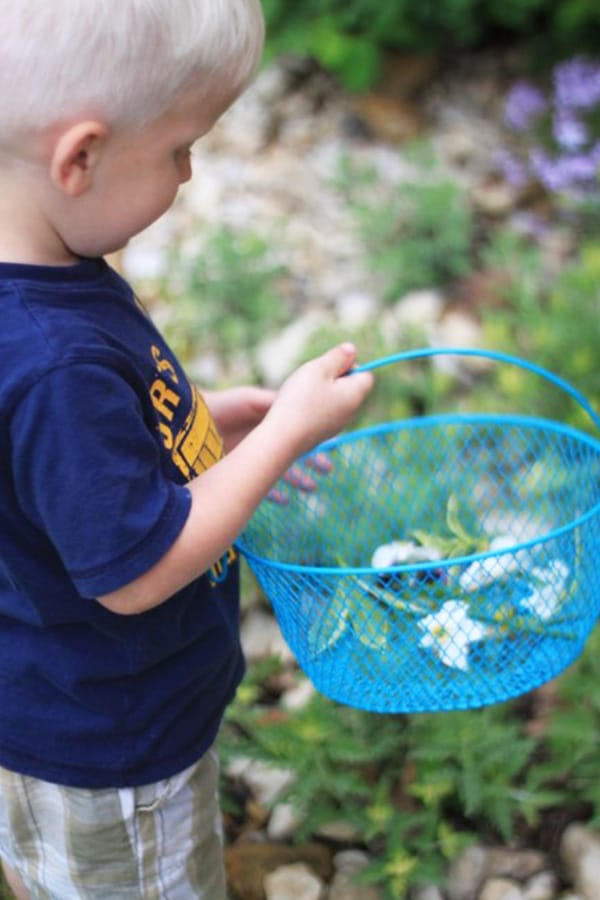 To go on your own nature scavenger hunt, you'll need:
space outside – a garden, park, or yard
basket (optional)
Collecting the items is completely optional, if you decide to, you'll need a basket or bag of some sort to hold all their findings.
Henry finished up school last week, so we have been going through the Camp Mom Pack – planning out the summer.
And one of the printables, as part of the Nature theme, is a Garden Scavenger Hunt, by Amanda Morgan of Not Just Cute. It's an easy invitation to go outside and hunt for these items in your garden.
Head Outside & Hunt for Nature!
We set outside to find some vibrantly colored items from nature! It's times like these that I really wish I had a better green thumb so I'd have more of a selection for the kids to choose from.
This nature scavenger hunt is very open-ended. What your kids find can vary depending on what they like, your location, or what's available right now.
What can we find on a nature scavenger hunt?
It turns out, this hunt is super open ended and endlessly adaptable!
We searched nature for things like:
small flowers
big flowers
plants with no flowers
something that smells good
something in their favorite color
a big leaf
a leaf that has a cool shape
sticks (that was actually harder than I expected in the spring)
It was such a refreshing and fun activity to do with the boys in the evening. The neighbor girl even joined us at the end to help us find some sticks!
Getting outside and running around was much needed, too. I think it might be the perfect activity to do in the evenings during that crazy time when they're getting tired, but yet all wound up.
We need to spend more of our evenings running outside, I think!
Print your own FREE copy of the Nature Scavenger Hunt!
I'm so excited to officially open Camp Mom over the summer with the boys! I just know that we're going to have a stellar time – enjoying tons of hands-on activities and play time together!
What are your favorite ways to spend a summer evening? We'd love to try your energy-busting, wind-down ideas!