Crafts
Science
SpringPreschoolersGrade SchoolCollage
Nature
Window156 Comments
These are stunning suncatcher wind chimes the kids made that was inspired by our fun tin can wind chimes, mixed with our nature suncatchers.
I love a craft that is easy for the kids to do and had a pretty end result! Natural suncatcher wind chimes are both of those things.
Start out by getting the kids involved and active. Send them into the backyard or take a walk to collect find flowers and leaves!
We just went around the yard finding pretty colors of flowers and interesting leaves. We tried to keep everything small in size but didn't limit to just that.
You could definitely make this part an entire activity in itself and do a scavenger hunt for certain colors, textures, or shapes. We always love a good scavenger hunt, and nature ones are classic!
Finding special things in nature is fun, but remember that a little bit will go a long way for this activity.
Once we collected our nature goodies, its time to set up to make a collage of it all.
Don't forget the extra special part: these double as gorgeous suncatchers, too!
Homemade Nature Suncatcher Wind Chimes for Kids to Make
To make your found nature into wind chime suncatchers, you'll also need:
Contact paper
Scissors
Marker or pen
Rings from Mason jar lids
String (we used hemp cord – affiliate link – but yarn works too)
A sturdy stick
Cut a small piece of contact paper and trace the mason jar rings onto the contact paper side (not the part you peel off). Trace as many as you have rings for.
Then peel the backing off the contact paper and tap onto the surface, sticky side up.
This is where the kids get to be as creative as they'd like!
Hand over the stash of nature items they found and let them fill in those circles.
We found it very cool to peel apart the flowers if they were big. To have a petal instead of a whole flower.
Or if the flower was closed up or bell-shaped, we peeled it open to fan it out.
They made for some gorgeous suncatchers!
Once their collages were complete, we finished off the suncatcher with another piece of contact paper over top.
Press them as flat as you can, sticking the contact paper wherever you can.
Such pretty suncatchers already!
Then we cut them out. Along the circles we traced.
Henry, my oldest who is 6, cut his himself. I went back over them to cut them a tad bit smaller though.
We traced the outside of the mason jar ring. So to fit in the ring, they had to be slightly smaller.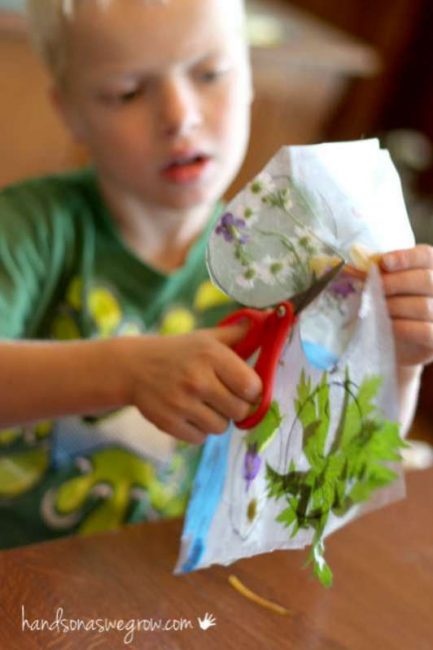 Then I tied a knot around the rings using the string we had on hand.
I simply pushed the suncatcher circles into the ring. We didn't need to tape them, they stayed securely in place.
But I can see that you may need to.
I also tied the strings onto a stick to make them into a wind chime that we hung on our porch. Two actually, and I love looking at them!
I love the simplicity of the raw mason jar rings. But I also think it would be fun to spray paint them to give them color, too.
However, I plan to use the lids again at some point for my jars, so I didn't want to "ruin" them at this time.
The boys are so proud of their suncatcher wind chimes! They love them!
And the sound they make is actually quite pleasant peaceful. I was nervous it would be clanky, but it's actually quite nice.
How do you use natural materials in your DIY craft projects?