Crafts
Fine MotorPreschoolersMusic
My Favorites
Painting
Tin Cans
Upcycle69 Comments
These are some fun to make, homemade, upcycled wind chimes that the kids can make!
Henry and I rummaged through our recycling bins to find some tin cans in various shapes and sizes, including some lids. Believe me, there's a lot you can do with stuff from your recycling bin! Upcycle whatever you can for the kids to play and create with!
(I taped around the rims of the cans to prevent any cuts.)
Using his trusty green basting paintbrush, Henry painted the outside of the tin cans with washable tempera paint.
Find 30 more classic summer crafts for kids to make!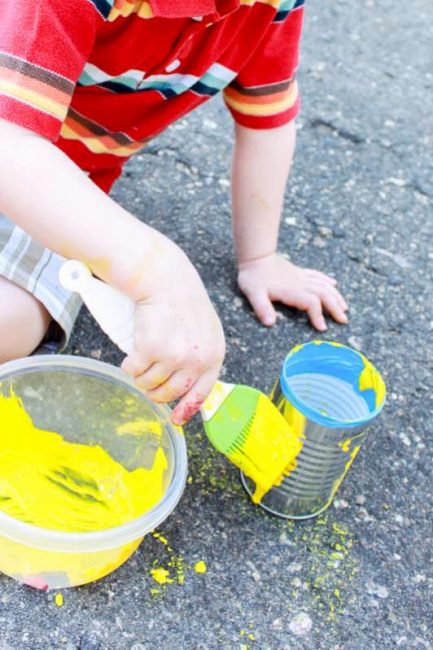 (We had added glitter to the paint, but when painting it on the can, it didn't show.)
Of course, we had to see the glitter, so Henry shook a lot some more on the tin cans when the paint was still wet.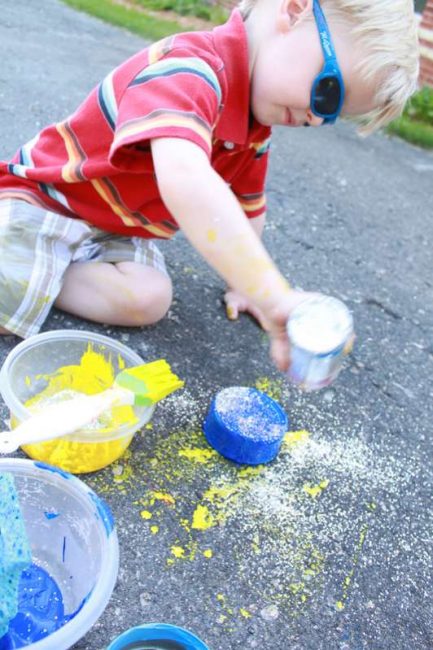 (So glad we did this project outside!)
After the paint dried, we punched holes in the bottom of the tin cans.
Henry actually refused to use the real hammer and would only use his yellow toy one. He was determined to make the hole. (Luckily he let me take a few swings in between his so I could punch it through.)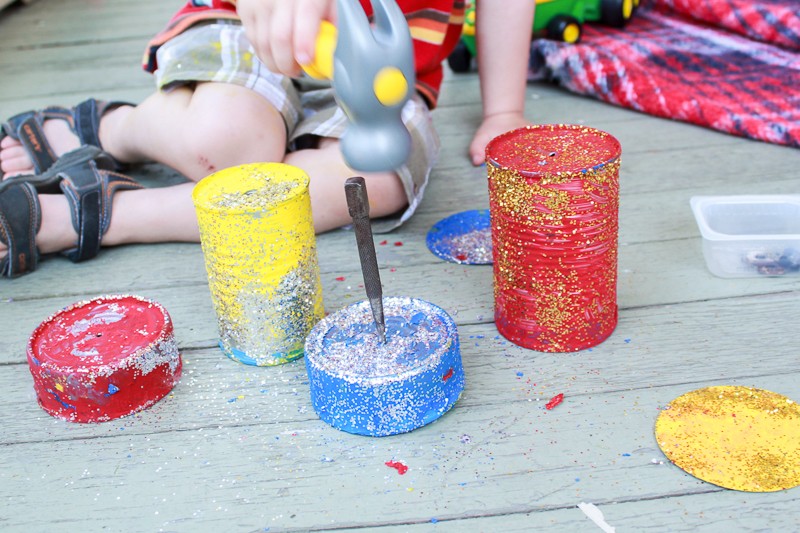 I am quite impressed with Henry's hand-eye coordination, he never once missed his target.
I strung a long piece of yarn through the holes and tied two washers onto the end of the string, inside the tin cans. One washer is used to hold the yarn in place, the other is placed at the end of the string to make a lovely clanking sound when it hits the tin can.
(You could also use nuts or rocks instead of washers, whatever is hard enough to make a noise when it hits the can.)
Henry tried threading the yarn (find more fine motor materials and activities) through the washer holes, but still continues to struggle with this. Yarn isn't the best medium to practice threading with, it comes unraveled and isn't stiff.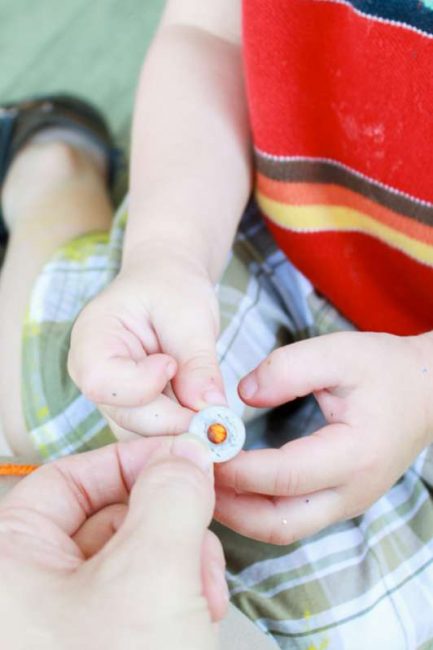 Once you've tied on your washers to the wind chimes, test out the noise it makes!
Henry noticed right away that different size washers make different noises. Different size tin cans make different noises, too!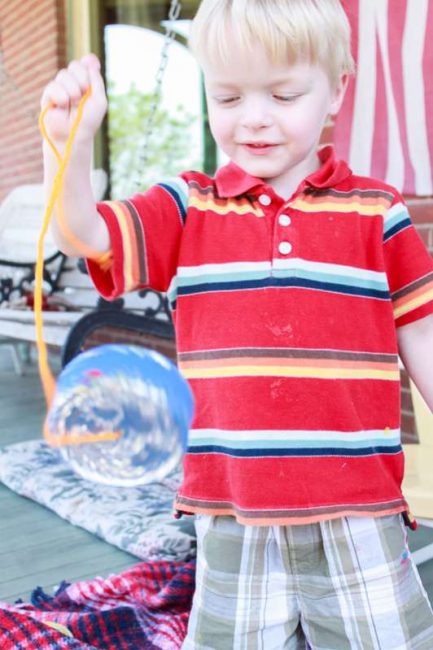 Hang up the tin cans so that they overlap each other.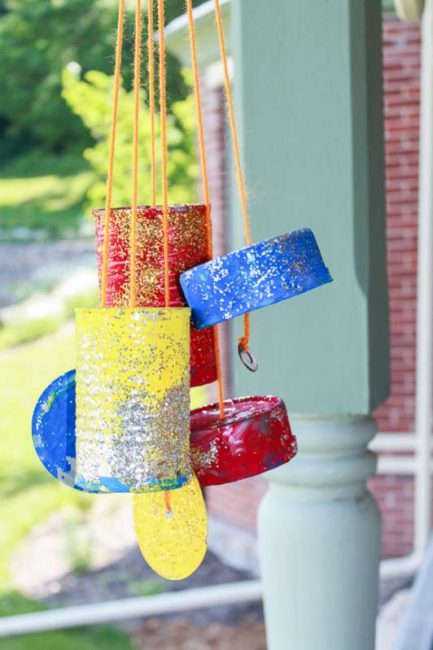 Let the wind do its thing and enjoy the wonderful clanking of your homemade wind chimes! (Or you can let your child do their thing too and listen to it all the time!)
Find 26 tin can crafts, music and activities kids can do! The wind chimes are one of them!
Henry and I have been reading about the wind in The Windy Day, by Anna Milbourne (affiliate link).
Wind is everywhere around us, you need it to fly a kite, or turn a windmill for energy, or for the seagulls to fly! And even if its not blowing near you, its blowing somewhere!
For lots of crafty weather ideas, visit Red Ted Art's Weather Themed Crafts and Tutorials. The tin can windchime by Learn 2 Grow inspired our DIY windchimes!
What weather activities have you done to go with our homemade wind chimes?