CampaignAll AgesRecycle
Resources
Upcycle2 Comments
I often share activities that could be considered as recycling activities for kids to do, using recyclables once more before they're really recycled.
However, often times, they require something that you still have to get or have on hand that's not recycled. Such as markers, paint, and other craft items that you may not have on hand.
I am partnering with Clorox Greenworks to bring you simple recycling ideas as ways to encourage kids to be green. Being green doesn't mean spending more money, or even more time than you normally do.
I've put together a quick list of some easy recycled activities that are just that, recycled activities and nothing more. They don't cost a penny other than what you're already throwing a way. No other supplies needed, besides a household scissors.
So hold on to those recycling materials!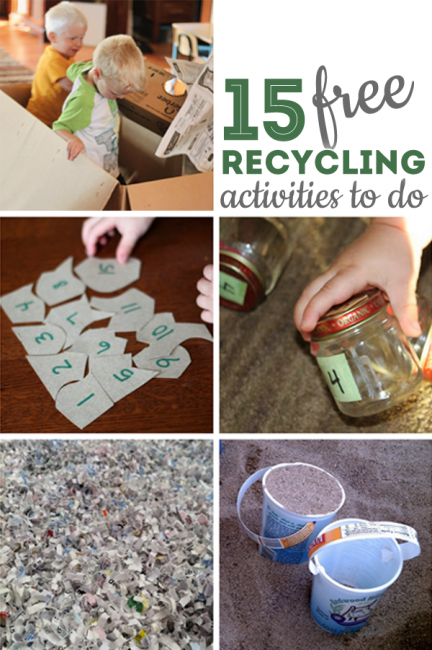 15 free recycling activities for kids to do:
Being green like this can be so easy and not take up any more time or money than you're already spending. Just making the right choices when you do. When you do activities with the kids, think first about what's in your recycling bin and try some of recycling activities.
When you're buying products, think green, such as Clorox Greenworks.
Click here to redeem a coupon to save 20% off Clorox Green Works.
You don't have to compromise on clean to be green.
Each Green Works product contains at least 95 percent naturally-derived ingredients. And, Green Works cleaners work on par with conventional cleaners. Green Works puts the power of nature in every bottle.
Green Works believes that green can be for anyone. Green Works stands for Green For All – they believe in a green that doesn't require extra time, resources or effort. That's why they make plant-based cleaners that stand up to the power of conventional cleaners. Green Works for all!
Disclosure: This post was graciously sponsored by Clorox Green Works which helps support hands on : as we grow to keep sharing activities to do with the kids. Please take a moment to jump on over to Clorox Green Works and redeem your coupon.