Crafts
SummerAll AgesResources9 Comments
What kind of crafts do you think of as must-make summer crafts for kids to create?
Summer is the one of the times I get really excited about crafting. It brings back all the memories of what we made at summer camps or vacation bible school.
There's a nostalgia there that makes it fun to relive.
I want to be able to create that same nostalgia feeling for my own kids when they're older. These are some fun summer crafts for kids to make that I think will give them that same feeling.
They do for me!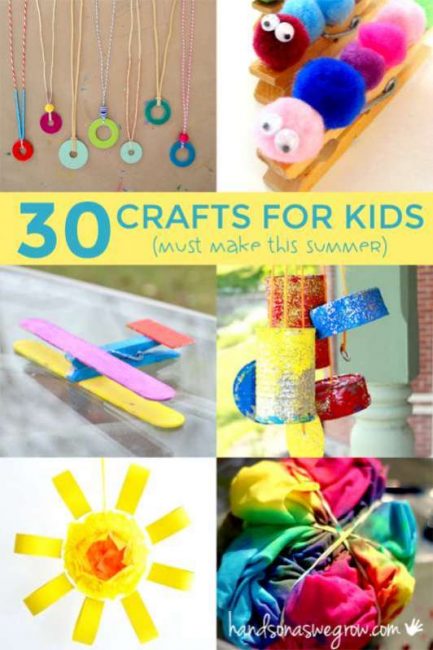 30 summer crafts for kids to be sure to make this summer!
These 30 crafts I believe to be classic summer crafts for kids. They all give me that warm fuzzy feeling of remembering making them as a child.
Make and decorate a colorful kite. Better Homes & Gardens
Make an art masterpiece on a hot day.
Make a milk carton bird feeder. Pink & Green Mama
Make a bubble snake blower. Skip to My Lou
Make a flower crown for a king or queen. Artful Parent
Make an adorable sun mobile. About Family Crafts
16 more summer crafts for kids can be found on A Mom with a Lesson Plan.
What summer crafts for kids would you add to the list?
Did I miss any classics? Share yours on our Facebook page or in the comments below (whatever's easiest for you).
Grab the Camp Mom: Summer Activities Pack for more summer crafts and activities for kids to do, along with all the planning help you'll need.