4th of July
CraftsPreschoolersCoffee Filters15 Comments
Spin art is a classic, fun activity that kids absolutely love to create!
But creating streamers as a 4th of July craft was the last thing on Henry's mind. I tried for many days and many approaches to create these. Sometimes I just don't win.
Okay, a lot of times.
Then, I saw a post from Adventures of the Smith Family: Spin Art Patriotic Garland!
With a salad spinner on hand and yet to try spin art. This is my opportunity to create the streamers with Henry.
Find 30 more classic summer crafts for kids to make!
Creating our Spin Art Streamers:
During another afternoon of digging outside with his backhoe, I brought the salad spinner outside. (Does anyone else's salad spinner have holes in the outside tub? I found this odd…)
Along with some watered down red and blue paint, spoons and coffee filters, I enticed Henry to come check it out.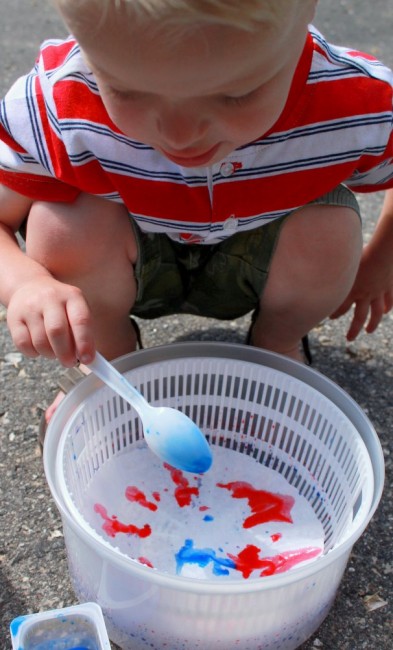 Drip a little paint of each color onto the coffee filter.
Then the fun part!
Spin. Spin. Spin!
(Or, you can drip one color, spin, and then drip the other color and spin.)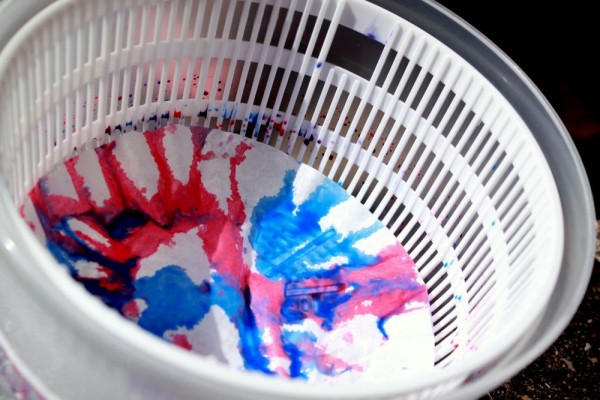 Check out those creations!
Henry was in complete awe of them.
Sometimes it takes a couple of times to get enough coverage. Simply add a little bit more paint and spin again until you get the result you're looking for.
I could have left them alone… very beautiful and fun spin art!
However, I was looking for a 4th of July craft to do… so, we made them into streamers!
After letting the coffee filters dry for a little bit, I cut them in swirls.
This could have been a great fine motor skills and cutting activity if Henry was to that stage in cutting. But he's still getting the hang of cutting a straight line, let alone in circles close together. So I cut it this time!
I asked Henry to grab me four sticks that were still floating around in his sandbox after we created the Tin Can Forest. He grabbed me four. No questions asked. (Very proud mom.)
I tied the cut coffee filters onto each stick. (Though looking back, I should have used yarn to tie them on.)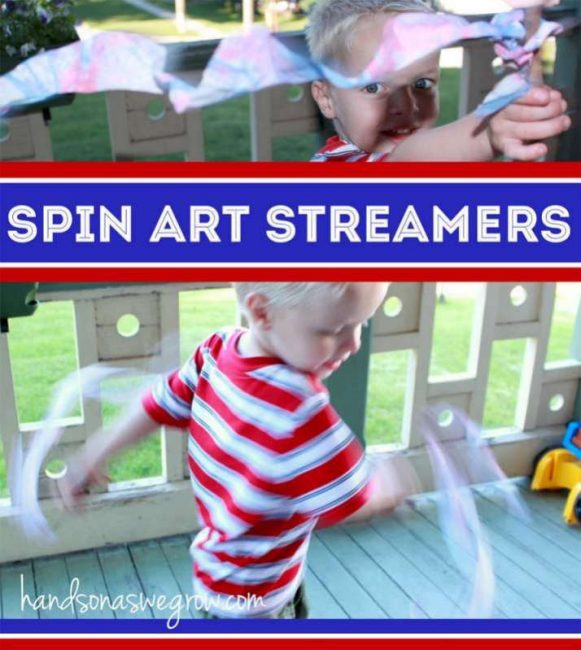 Hand them over to your preschooler, and you have super safe sparklers for the 4th of July!
Otherwise known as streamers…
More 4th of July crafts made with coffee filters:


Super simple coffee filter fireworks found at No Time For Flash Cards.
A red, white & blue coffee filter bunting for your porch, the tutorial is at Katydid and Kid.
Crafts by Amanda makes patriotic coffee filter flowers.
Little Wonders Days' made a pop rocket with a coffee filter and toilet paper tube!