CraftsPreschoolersGrade School6 Comments
Okay, I probably don't need to write out instructions for this classic summer craft; paper bag mask. It really is pretty obvious.
But I'll go ahead and tell you how the kid each made a paper bag mask anyway.
Well, first, you need a paper bag!
That was obvious, wasn't it?
Get one for each child to decorate.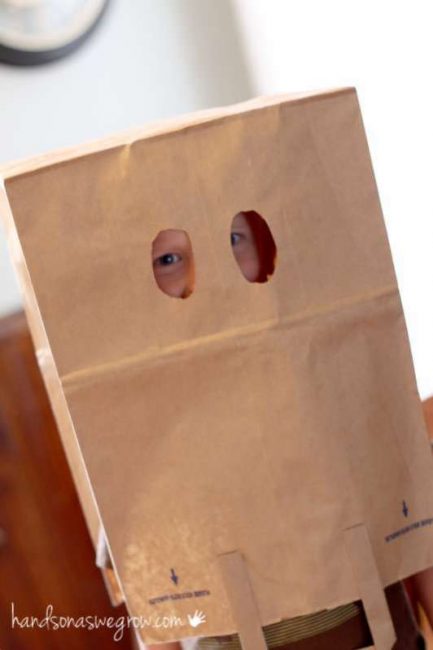 I made the kids each put the bag over their heads so I could figure out where the eye holes went.
They thought it was hilarious when I was poking around inside and out to find their eyes.
No, I didn't poke them in the eyes…
I made a mark with a marker where there eyes were and then cut big ovals out around it. Pretty much as big as I could make them without running into each other. I figured they wouldn't sit on their heads the same the next time they wore them that I'd need as much forgiveness as possible so they could see.
I also cut out their shoulders. Just a half oval cut out on each side of the paper bag.
After their eyes were made, it was all up to them on how to decorate.
They could have used markers and crayons or even paint to decorate it. But we decided on scraps of paper and glue.
The boys cut shapes in all different colors and finished off their paper bag mask.
George was kind of funny, copying most of what Henry did (for some reason I don't' have any photos of him actually making the mask).
Henry was pretty particular.  Eyebrows, nose, mouth, beard… Plus some extras just to look cool.
And this is how George's paper mask turned out. Pretty cool dude!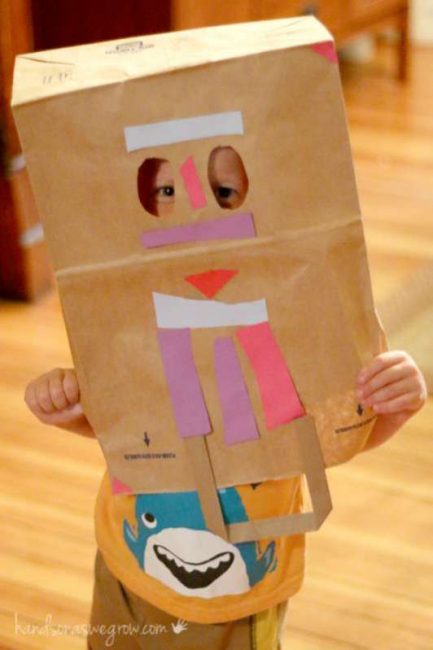 More ways kids can make a paper bag mask: