Big Art
Science
Sensory
SummerPreschoolersBeat the Heat
Colors
Mixing Colors
Outdoor43 Comments
Painting with frozen paint on a hot day is a fun and creative way to beat the heat! Its a great summer art project for kids when it's really hot outside!
Summer is heating up and we are trying to find creative ways to stay cool.
So far, George has played with ice cubes (a simple sensory activity for babies) and Henry discovered a healthy snack of fruit in a frozen ice excavation.
Find 30 more classic summer crafts for kids to make!
The kids even managed to keep cool while creating art!
I've seen a lot of ice cube paintings out there, where you color some ice cubes with some food coloring. It often gives a watercolor effect, often very pastel.
For this art project, I was looking for a something a little more… vibrant!
So we got artsy with some frozen paint!
This is a great summer art project for kids on a hot day! If it's too hot outside, get them active indoors with 12 indoor gross motor activities.
Easy DIY Frozen Paint
Instead of just coloring ice cubes, we froze entire cubes of paint.
I used Crayola washable paints (affiliate link), it's our fave. Then I added just a dash of water to top it off.
I stuck with our favorite combination of colors: blue and yellow. They make Henry's favorite. Green.
When I topped off the paint with water, the colors kind of combined in the ice cube tray.
But they were only green on top, underneath was still yellow or blue.
Looking back, I only needed to freeze about 3 cubes of paint. So we have 9 more in the freezer waiting for another hot paint day!
I stuck the paint in the freezer for about 20 minutes and then added the craft sticks.
I'm not quite sure how long they took to freeze. We stuck them in the freezer in the morning, and they were ready after nap, at around 4 p.m.
Hot Sun and Frozen Paint
To start painting, you just pop them out of the container like you would a regular ice cube and let the heat of the sun do its work! The cube is your paintbrush!
Don't forget to slather sunscreen on the kids before heading out to do this art project!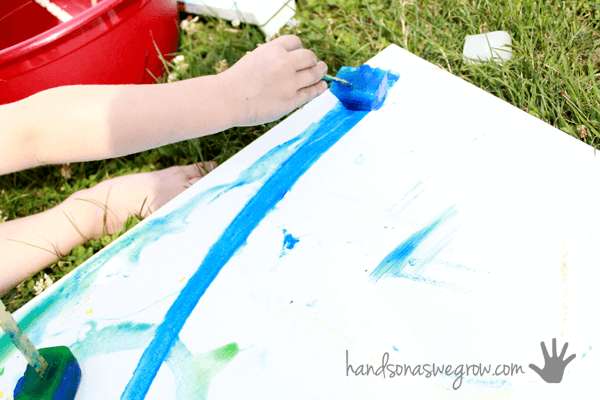 It took a little bit to get going because the paint was, well, frozen. Once the heat got the paint cubes melting, they melted on the canvas so brilliantly!
Very vibrant!
It didn't take long for Henry to dive in with his hands to mix the colors together.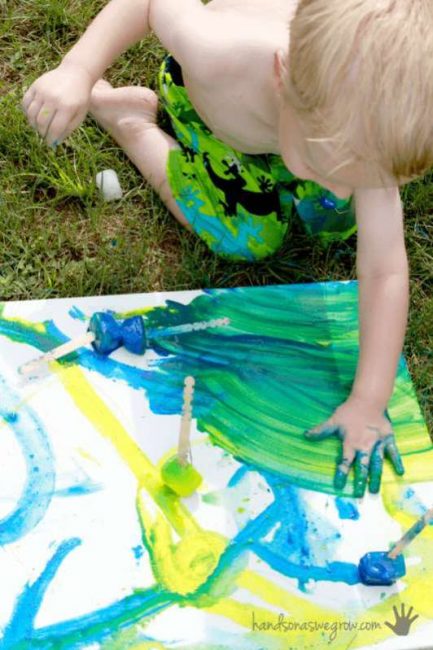 Along with making green, Henry made rivers of blue going through the green. He made rows of corn in fields.
And he made a huge mess! This was definitely a messy, messy activity!
We had the pool out for the day, so cleanup was simple and fun!
Henry jumped in and cooled off while he scrubbed himself clean!

While Henry was enjoying painting, George enjoyed his ice cubes. They had a moment or two without any sibling rivalry.
It was nice. For a moment.
Henry continued being nice to his brother and was very specific that he made his piece of art for George's room. He was also very specific in how it hung and which side was up.
Some more painting with frozen paint cubes:
How do you cool off with your kids on a hot day?