Sensory
SummerPreschoolersBabyBeat the Heat
Outdoor22 Comments
In order to Beat The Heat last week, we froze some berries and excavated them out!
Using tools to find hidden treasures is thrilling for a preschooler!
Henry was so excited to dig out his buried treasure.We got started by making the buried treasures together.We had some leftover fruit in the fridge: blueberries, black raspberries and grapes.Add them to an ice cube tray partially filled with water and freeze them again.(We also made a larger buried treasure in a Pyrex dish.)

I think Henry snacked on as much of the fruit as he did burying them.
(This might be a sneaky way to get in a healthy snack!)When our buried treasures were mostly frozen, I added them to an cake pan to combine them all together.(Tip: I put the cake pan with water in the freezer to get chilled for a little bit before adding the fruit.)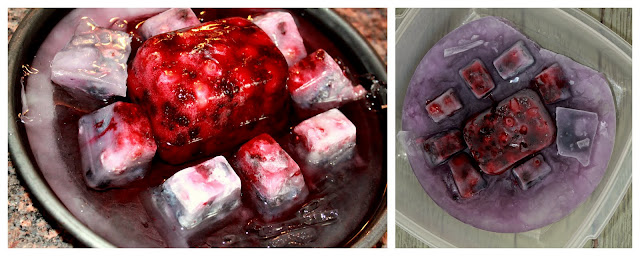 After nap that same day, our treasure was ready to be found!
We set out on the porch on the hot day and gathered Henry's tools.
(Though this day wasn't as super hot as the others – still very humid though.)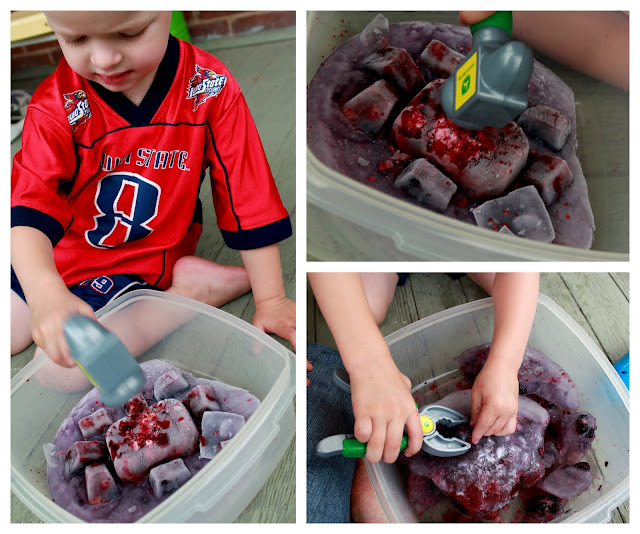 Henry's tools of choice:
 Hammer
Drill (not shown)
Pliers
Henry found the hammer worked the best for breaking apart the ice.
The pliers worked well for picking out the smashed pieces of fruit.
As he picked out each piece of fruit, it went directly into this mouth.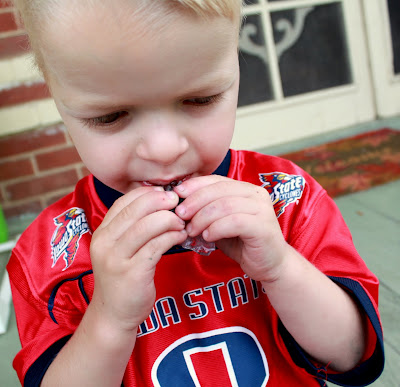 Sometimes with a nice chunk of ice too to cool off.Some other ideas for Ice Excavation: