Fine MotorPreschoolersGrade SchoolKindergartnersEating Battles
Toothpicks7 Comments
This fruit and veggie building activity is an imaginative way to encourage kids to eat healthy and build fine motor skills. Shared by Hands On As We Grow contributor, Carlyn.
It's healthy eating season around our home, and we're diving full force into this month's theme from the The Activity Room at Hands On As We Grow: Eating Healthier.
What better way to get the kids excited about healthy snacking than with a fun fruit and veggie building activity?
My son, E, loves fruits – he would eat them for his entire diet if I let him! But we're still working on our love for veggies.
My personal goal is to get him enjoying more raw veggies as easy go-to snacks (think: broccoli and cauliflower, NOT smothered in ranch!). We've tried it before with little success, but this time we added an element of fun.
Here are some fun physical activities to keep kids healthy too!
E also loves building (or really… smashing after the build). I've seen the toothpick and marshmallow building activities floating around, and even the toothpick and grape variety, and thought this was a great starting point to sneak in some new textures and flavors.
Gather your snacks for fruit & veggie building.
For supplies, we just raided the fridge!
I added a few of his favorite fruits…
Grapes
Apple chunks
Cantaloupe
… and snuck in some healthy raw veggies too!
Broccoli heads
Broccoli stems (chopped in 1 inch pieces)
Cauliflower
You could probably use some carrots, or zucchini chunks or even cheese cubes, but we didn't have any on hand.
We also grabbed some round toothpicks (affiliate link) from the store to make sure we wouldn't run out in the middle of a build-a-thon!
Go play with your food!
E jumped in right away building basic shapes. He experimented using familiar fruits at first, and soon found the cantaloupe and apples were much better for making a sturdy base.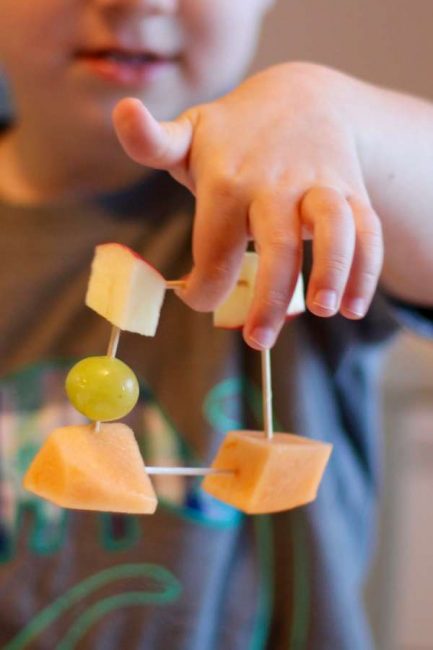 Soon the snacking began. Some grapes here, an apple chunk there.
Then it happened… he tried the cauliflower completely on his own!
That face had me on pins and needles, but he went back for more. And broccoli too! Mission accomplished!
Time to keep building. E made a cube house, then asked for help to put a roof on it. He also wanted to build some landscaping for his yard, but the grape "bushes" kept rolling away.
This was a perfect opportunity to talk about the different features of the foods. Is it soft or hard? Round or flat? Smooth or rough? Which ones made better building blocks?
He chose the broccoli stems as his tree base and just adored his little trees!
Look at those little fingers at work. I can just see them getting stronger with all this fine motor work!
We kept munching healthy snacks and having fun, when his imagination kicked into high gear.
He crafted a bug to crawl around his house. For this part, we talked about the shapes of each food and which one might look the most like a bug.
Our fruit and veggie building turned into spontaneous pretend play.
I love that!
Here's his final creation with the fruit and veggie building activity: A little bug palace complete with majestic broccoli trees.
There was only one thing left to do… SMASH IT!
Beware of sharp toothpicks! E surprised me by jumping into demolition phase on his own. Luckily, he didn't get pricked. Next time, I'll keep a spatula or other tools on hand for this step.
For your little smasher, try this swat the letter learning game.
E asked to do this activity again, and I'm all for it!
Anything that gets him to work his imagination and walk away with a love of healthy snacks is a winner in my house.
How do you encourage healthy snack time with your kids?