Fine MotorPreschoolersClothespins
Pom Poms10 Comments
Build preschool fine motor skills with a DIY claw grabbing machine that you can make at home with pom poms!
I love a good preschool fine motor activity! But what do you do when your activity doesn't quite go off as planned?
Well, as I learned with our claw grabbing machine, it's all about how you spin it!
I needed a last-minute, quick activity for George to do that wouldn't take long.
No-Prep Game for Preschool Fine Motor Skills
We were planning to head out in the morning after Henry left for school. But first I had to make a quick phone call first and George wanted an activity to do while I was on the phone.
Yay! Great, because that keeps him occupied and I love that he asks to do an activity.
But I hadn't planned on being around so I didn't have much in mind.
Claw Grabbing Machine Make Fine Motor Fun
I ended up grabbing some pom poms out of our craft cupboard, along with some clothespins.
I was thinking of a simple transfer game to strengthen his hands by opening the clothespin. It would also work on hand-eye coordination to pinch the pom poms.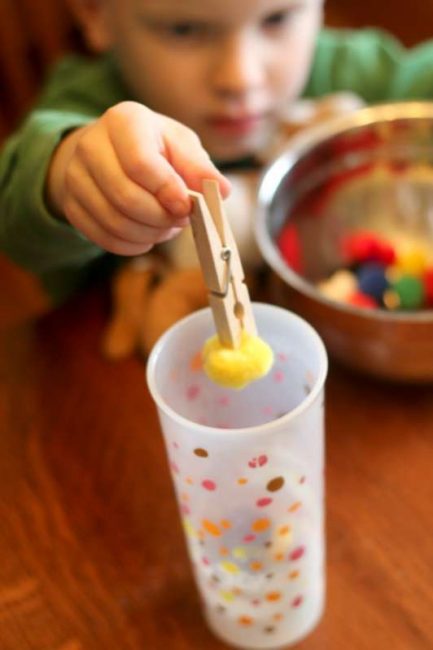 To make your own claw grabbing machine, you'll need:
Pom poms
Clothespins
Bowl or container
Tall, skinny cup or bottle
Have more preschool fine motor fun with a tongs and pom poms transfer challenge!
George wasn't sold at first. Until I added excitement to this preschool fine motor activity by connecting it to the claw grabbing games in arcades.
These both excite and challenge George – he has yet to win. So turning this quick activity into practice for that game really got him interested!
He dipped the clothespin in the bowl to pinch a pom pom. Pinching the clothespins was actually quite hard for George.
Not all clothespins are created equal. We went through my bag of clothespins to find an easier opening one for him because some were quite stiff.
Up the pom pom and clothespin ante with a fine motor/gross motor challenge for preschoolers!
Once he got the hang of the clothespin he went right at it with no problem. He loved dipping his "claw" into the bowl and pulling out his prize!
He dropped each pom pom into the cup as his prize for later!
It sounds so silly that the same activity can instantly be turned around with a simple rewording of what they're doing. Making it something relate-able to them makes all the difference.
We Love to Build Preschool Fine Motor Skills!
How do you work on preschool fine motor skills? We'd love to check out your creative activities!