Crafts
WinterAll AgesResources17 Comments
I have been on a kick of finding winter crafts for kids to make when its cold! These are some cute winter crafts for kids that are all about Brrrrrr! 
Alright, as I'm writing this, I really, actually want winter to just be over. I've had it with the subzero temps and snow falling, blizzards, late school starts and cancellations. We need to get back to normal and be able to go outside and play!
While I may be tired of winter, I am absolutely not tired of seeing these adorable winter crafts for kids everywhere! It somehow makes all the above not so bad after all.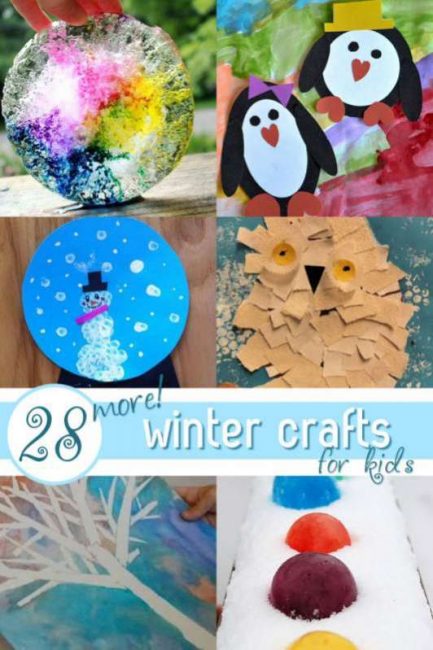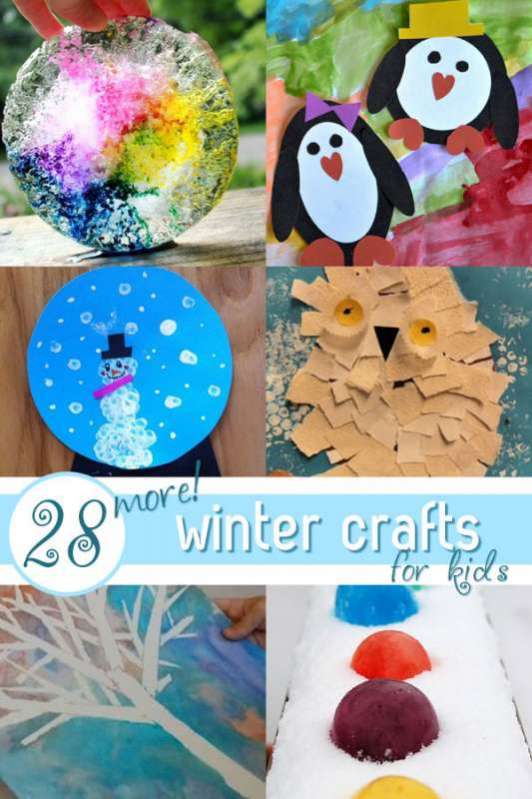 MORE ACTIVITIES YOU MIGHT LIKE
Outdoor Winter Crafts for Kids:

Crafts can be brought outdoors to enjoy! Things that freeze are generally fun to hang outside because other times of the year it just isn't doable! Plus feeding the birds can be fun to watch.

Frozen Bird Feeder
hands on : as we grow
Ice Ornaments
Red Ted Art
Ice Suncatcher
The Artful Parent
Toilet Tube Bird Feeder
Momtastic
Toasted Heart Bird Feeder
hands on : as we grow
Balls of Colored Ice
Hurrayic
Classic Bird Feeder
hands on : as we grow

Winter Animal Crafts:

You cannot have winter craft for kids to make without making the animals of 'winter'. Penguins and polar bears may be on opposite ends of the earth, but you can create them side by side! Don't forget those beautiful snowy owls too!

Footprint Penguin
Meet the Dubiens
Heart Penguin Craft
Classifed: Mom
Handprint Penguin
Red Ted Art
Shape Penguin Printable
The Frugal Greenish Mama
Peek-a-Boo Egg Carton Penguins
Preschool Powol Packets
Toilet Roll Tube Penguin Craft
My Happy Crafts
Puffy Paint Polar Bear Face
Kiboomu Kids
Polar Bear Mask
I Heart Crafty Things
Cotton Ball Polar Bear
Little Family Fun
Snowy Owl Pine Cone Craft
Little Learners Lounge
Snowy Owl Collage Craft
Hannah's Art Club

Winter Tree Crafts:

Trees without leaves are a staple of winter. They're beautiful with the snow fallen on them, or icicles hanging from them. You can crate some gorgeous winter tree crafts to enjoy indoors as well.

Sticks Winter Tree Craft
Red Ted Art
Cardboard Winter Tree Craft
Creative Jewish Mom
Tape Resist Winter Tree
Inner Child Fun
Winter Tree Collage
Pint Sized Treasures
Tape Resist Birch Tree
hands on : as we grow

Snow Globes & Igloo Crafts:

What about all the snow? What can you make with snow? How about some igloo crafts and snow globes! 2D or 3D crafts can be fun.

Igloo Mosaic Craft
The Craft Classroom
Igloo Structure Craft
Children's Learning Activities
Snow Globe Craft
Mommyapolis
Snow Globe Jar
Red Ted Art on PBS Parents
Paper Plate Snow Globe
Underpaid and Overblessed

Snowflakes & Snowman Crafts:

Nope. I didn't forget all the ways to make a snowflake or some adorable snowmen. I have plenty of ideas for you to check out for them below!

30 Ideas to Make a Snowflake
24 Adorably Cute Snowman Crafts for Kids

Did I miss any winter crafts for kids to make?
What about pine cone crafts? Would you consider that a winter craft?