WinterPreschoolersAnimals4 Comments
This polar bear craft fits in perfectly with our winter crafts for kids to make!
Who doesn't love a good polar bear craft?
Good grief this one came out cute.  And, best of all, it was actually child made. By a preschooler no less.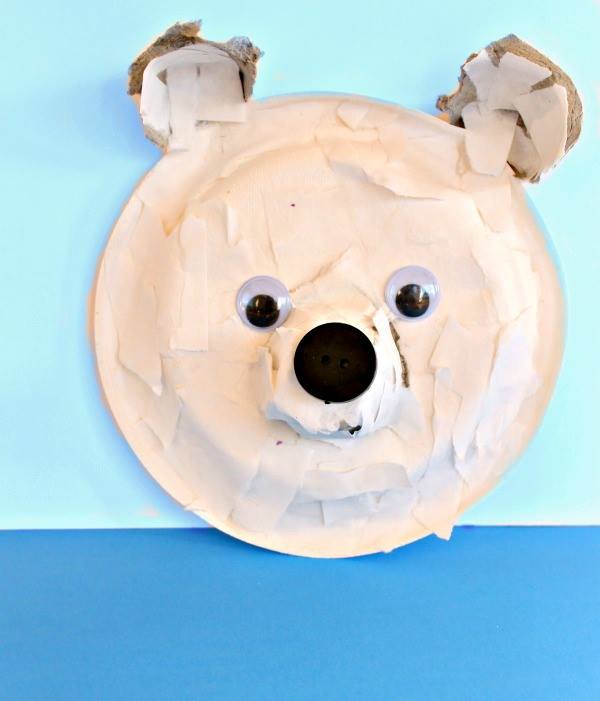 We love doing crafts, especially in the winter. And this polar bear craft is a great addition to our crafting files.
Polar bear crafts for preschoolers are wonderful to tie in with so many different things this time of year. There are so many books about polar bears – my favorite is the classic Polar Bear, Polar Bear, What do you Hear?, by Bill Martin Jr and Eric Carle (affiliate link).
In fact, you could turn this cute craft into a big retelling project through art and create little torn-paper, paper plate animals for each character in the book!
I am not saying I will, I am simply saying it's possible… I don't have that kind of crafting commitment right now. But if you do, please share a picture – perhaps it will inspire me! (I am not saying it will, I am simply saying it's possible)
To make this adorable paper plate polar bear craft we used only a paper plate, egg carton, and paper (preschool crafting basics). We also used some glue, buttons, and googly eyes.
To begin, I glued an egg carton cup to the middle of a paper plate. I used white glue, but hot glue would also work.
While this was drying for a few minutes, my little one began ripping up a sheet of white construction paper. He tore it into long strips, and then ripped those strips into pieces of different sizes. I told him the smaller the better (until he began ripping them to the point of being invisible to the naked eye, oh that boy of mine).
Tearing and ripping paper is a wonderful way to strengthen fingers for future writing.  And awesome for little ones who struggle with scissors.
Once we had the whole piece of construction paper torn, Sam painted glue onto his paper plate.
Lots of glue works best. A nice thick coating.
He then worked to cover the entire paper plate, first with glue, and then with the torn paper.  He would add glue when overlapping the paper.
He also covered the egg carton nose with the torn paper. Sam quickly realized he should use less glue on the nose to prevent the paper from sliding off. Crafts are wonderful learning tools for so many reasons.
Realizing the polar bear didn't have ears, I cut another egg carton cup in half to glue on the sides of the head. This time I used hot glue so it would dry quickly and Sam could glue his paper on.
Find more winter crafts for kids, including snowflake crafts and snowman crafts for kids to make.
While the paper and glue dried we went on a hunt for a button nose and some button eyes. We managed to find a button nose and 2 big googly eyes.
I love the way this little polar bear craft turned out!  So cute with his little three dimensional snout.
Sam decided this polar bear should go on a craft stick to become a mask.  Which quickly resulted in some roaring and ROARING at his little brother. Which then resulted in tears.
I would not recommend adding a craft stick.