Crafts
Mother's Day
SpringToddlersPreschoolersCoffee Filters
Flowers
Pipe Cleaners17 Comments
Please note that these coffee filter flowers the kids made were first shared back in April of 2012 as a Mother's Day gift. However, I love flowers for spring, and I'm in the mood for Spring!
I'm thinking of Mother's Day crafts and what to make for Grandma this year from the boys (My mom still has the tissue paper contact paper flowers we made for her last year).
Instead of using tissue paper this time, we used coffee filters to make these flowers, which opened up a lot of fun to color them!
I really only intended this to be for Henry, but George hopped right up in his chair, so I got him setup to try it, too.
With a couple ice cube trays, I put in a little bit of water with food coloring in the three primary colors. (In hopes of some color mixing to happen!)
I handed the boys some paintbrushes and coffee filters and let them go at it. I happily painted some coffee filters along with them.
George amazingly did a couple coffee filters with the paintbrush! I was thrilled!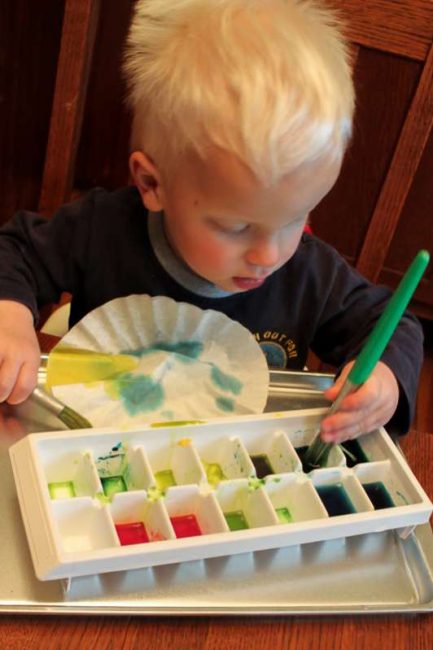 Henry was very slowly piddling at one coffee filter, trying his best to make green.
In the meantime, George found a new method to dye his coffee filters. And this spurred a lot of enthusiasm for the boys.
George crunched up his coffee filter and shoved it into one of the ice cube sections of colored water. And pulled it out. Ta da!  Completely dyed!
Henry took off doing this as well, mixing his colors. First dipping is coffee filter in blue, and then in yellow. Of course, to make green.
Next up, was red and then blue. To make what? was my question. Purple, of course!
This new method that George created sped up the process dramatically!
The boys dyed coffee filter after coffee filter until I had no more coffee filters. (Though I did just find a few more in my craft cupboard, shhh!)
We laid the wet dyed coffee filters out on paper towels for a day or so to dry (I think they would have been okay the next morning).
And then we made flowers out of them, using pipe cleaners, that I got from CraftProjectIdeas, as stems.
It's not really a science on how to make a coffee filter flower. I simply grabbed the middle of the coffee filter and kind of twisted. Then with the middle as a point, I tightly wrapped a pipe cleaner around to secure it in place.
I tried to get the boys (mainly Henry) involved in this process but he just wasn't grasping it. So I did all the flower making, while Henry and George picked out each flower's stem.
Once the pipe cleaner was on, I messed with the flowers to make them look alright (puffing them up here and there).
And arranged in a vase!
Later on, we made a yarn wrapped vase to give to Grandma too!
I told you we did quite a few!
Henry has them all decided on who gets what flowers.
An early Happy Mother's Day to all you moms!