Crafts
Mother's Day
SpringAll AgesResources7 Comments
Finally, I've come up with a list of a bunch of non-flower type crafts for mom that the kids can make for Mother's Day.
Every year, it seems that the kids and I make some kind of flower crafts for Mother's Day to give to Grandma.
I'm trying to get out of that rut and find some non-flower crafts for the kids to make. We just made these gorgeous tinted mason jars that I'm incredibly excited about! Just gotta find something cool to fill them with!
But there's so many other ideas I'm finding now! I'm personally loving the vase idea. Then you can refill it with all those flowers in years to come!
Here are 10 of my favorite non-flower crafts for Mom (or Grandma) that the kids can make!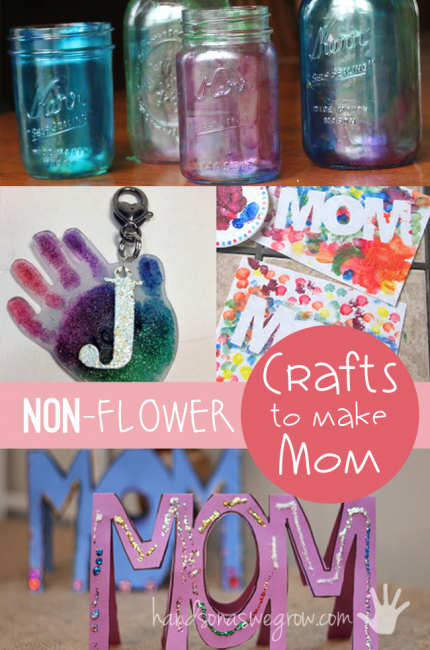 From mason jars to charms and Mother's Day cards. There's plenty of ideas for non-flower crafts for Mom and Grandma!
In case you're looking for them, I have collected plenty of ideas for flower crafts for Mother's Day as well, so if you're looking for those, you can check out all these stunning flowers I found for kids to make mom, too.
These gorgeous tinted mason jars are perfect to hold mom's flowers!
Or have the kids make a yarn wrapped vase to hold her flowers, desk or kitchen tools.
We even love these salt covered vases for kids that love sensory play!
This handprint charm makes a sweet keepsake to hang on purses, keychains, or anywhere! (Plucking Daisies)
Make a playful gift with a sweet message, with this Love Note Puzzle (Toddler Approved)
Toddlers can do this simple MOM tape resist painted card (An Educators' Spin On It)
Or try painting these watercolor cards for Mom — or any occasion! (A Mom With A Lesson Plan)
Got a scissor fan? Get some cutting practice with these MOM / WOW cutout cards (Housing A Forest)
What Mother's Day isn't complete without a homemade picture frame? (No Time For Flash Cards)
Older kids can practice their fine motor skills too! Try molding a spiral heart clay necklace (The Chocolate Muffin Tree)
Do your kids make crafts for Mom or Grandma for Mother's Day? Are they flowers? Or something else?
Please share in the comments. I'd love to find a nice collection of Mother's Day crafts for kids to make, and really make themselves!