Crafts
Mother's DayPreschoolersGrade SchoolPainting112 Comments
As a colorful Mother's Day gift for grandma, the boys and I made some tinted mason jars. How to tint mason jars is actually incredibly easy for the kids to do!
Last summer, my sister and law and a bunch of us girls colored mason jars for her and my brother's wedding. I called her for a quick refresher of how to do it.
This is one of our 10 non-flower crafts for mom for Mother's day and its so simple!
What you need to tint your Mason jars:
Please note that these are affiliate links that help support hands on : as we grow with no additional cost to you. Thank you.
I love when I have everything in my supply cupboard already! Mod Podge would be the only thing I don't restock up on all the time, but did happen to have some for this. But, like I mentioned, school glue works too for this, just add a bit of water to it.
Simple method of how to tint Mason jars:
The boys mixed their own colored glue.
I dumped some Mod Podge in some glass dishes and they added food coloring of their choice and stirred it up.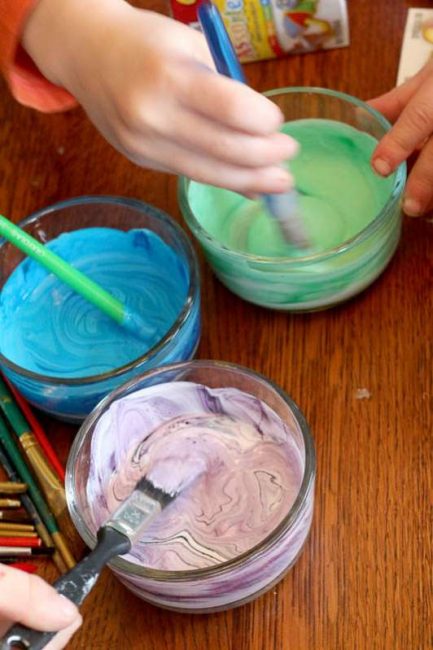 MORE ACTIVITIES YOU MIGHT LIKE
They got right to painting the mason jars. They can paint either the inside or the outside for this craft, it doesn't matter.
Henry painted the inside of his first jar.
How to tint mason jars a solid color: This is what we did for my brother's wedding. We poured a little of the colored glue into the glass jars and swirled it around to cover the entire inside and then let it drip out.
I told them both to get creative and paint with multiple colors to see them marble together.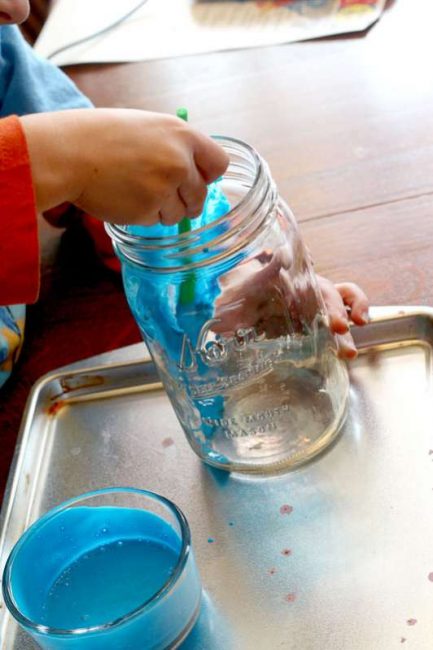 George painted the outside of his.
He turned it upside down to paint the bottom of it.
George wanted to use all three colors of glue on his jar, which is just fine.
I just made sure to tell him to keep them separate on the jar or all three colors together would probably make brown. He was very careful to paint the colors next to each other and not mix them all together.
On their second jars, they each tried painting their jar the other way.
George painted the inside of this one, and Henry painted the outside of his jar.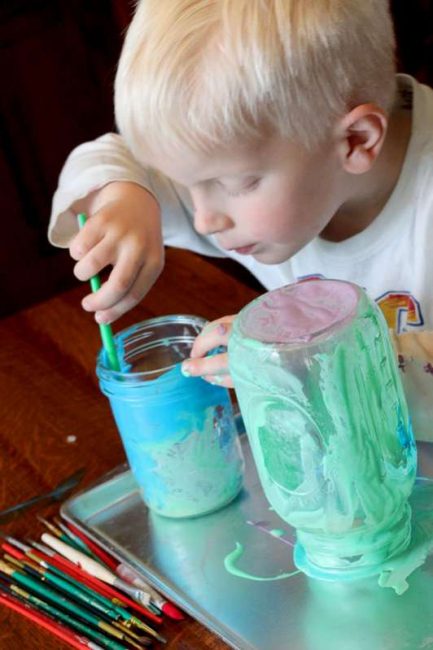 As for the finished product, I think they both look the same, whether they were painted on the inside or out. However, you can feel the glue mixture on the ones that were painted on the outside.
If you're prefer a smooth finish, go with painting the inside.
I was hesitant to having the kids do it that way, I thought it would be hard for them to reach in with the paintbrushes. But neither of them had problems. But they also did the inside on the wider mouth Mason jars.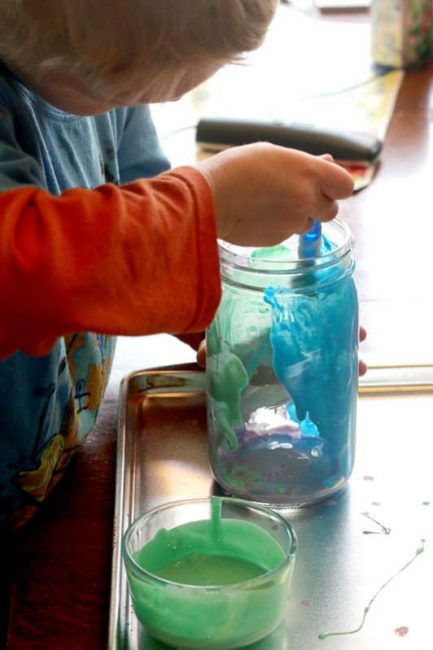 Its always nice to see them being creative side by side.
Getting along. For the most part.
They had a little argument over the blue paintbrushes because somehow there ended up being three of them and George thought there should only be one.
After they're done painting, they have to drip, especially the ones that were painted on the inside. So we tipped them over to drip for awhile.
The one good thing about the kids painting the inside of the jars is that I could write on the bottom of the jars with permanent marker the date and their initial so I knew whose was whose.
We really should have let them drip for a good hour or so, but we were in a rush and it was only a few minutes. (Hey, we were going to go roast hot dogs and s'mores on an open fire!)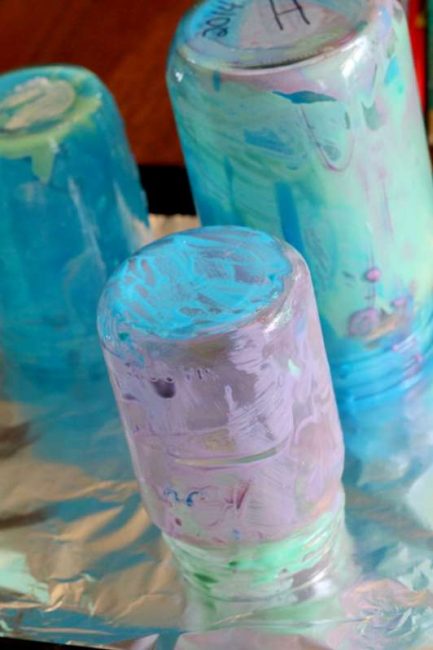 Then I popped them in oven at the lowest temperature I could, 175F for about 10 minutes with them still upside down.
Then I turned them over and baked them for another 20-30 minutes or so.
I took them out and we went to roast our hot dogs while they cooled off.
They turned out so pretty with marbled coloring. I can see a few thick spots though, so I do think that if I let them drip for a while longer before putting them in the oven, it would be a more even coating. They still look pretty awesome though and I'm super excited to give these to Grandma for Mother's Day.
Now we just have to decide what we want to fill them up with! Any suggestions?