Crafts
Fine Motor
Mother's DayToddlersPreschoolersKindergartnersGrade Schoolgifts
Painting187 Comments
Learn how to tint mason jars in this easy DIY painting glass jars tutorial! These pretty jars are the perfect DIY crafts to gift or keep!
Ever seen those pretty, colorful rustic-looking mason jars and immediately wanted one? Me, too!
I wanted some for a long while, even before this craft, to show off wildflowers or serve as cute organizers. Hey, my paper clips needed a space to hang out!
How to Tint Glass Mason Jars with Painting for Kids
As a colorful Mother's Day gift for Grandma, the boys and I made some tinted mason jars. Tinting glass jars is actually incredibly easy for the kids to do through painting!
I first did this craft at my brother and sister-in-law's wedding. We had so much fun doing this as a girls' day activity for wedding prep, that I immediately started thinking of ways to turn this into a craft for kids!
This is one of our 10 non-flower crafts for mom for Mother's Day. It's so simple that it's quickly become a favorite!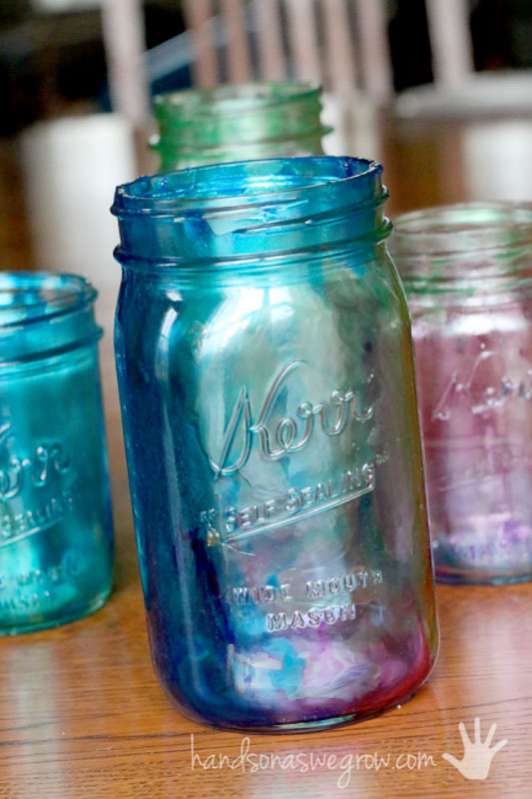 What You Need to Tint Your Glass Mason Jar With Paintings:
I love when I have everything in my supply cupboard already!
Mod Podge would be the only thing I don't have in stock all the time. This time, I did happen to have some on my shelves.
But, like I mentioned, school glue works too for this, just add a bit of water to it.
Easily Tint Glass Mason Jars by Painting for Cute Gifts & Vases
First, the boys mixed their own colored glue for painting the glass jars.
I dumped some Mod Podge glue into glass dishes. Then they added food coloring of their choice and stirred it up.
They got right to painting the glass jars. Paint either the inside or the outside for this craft, it doesn't matter.
Henry painted the inside of his first jar.
We poured a little of the colored glue into the glass jars and swirled it around to cover the entire inside and then let it drip out.
Your child can also reach inside with a paintbrush to swipe on the color. Just be sure to get all the nooks and crannies!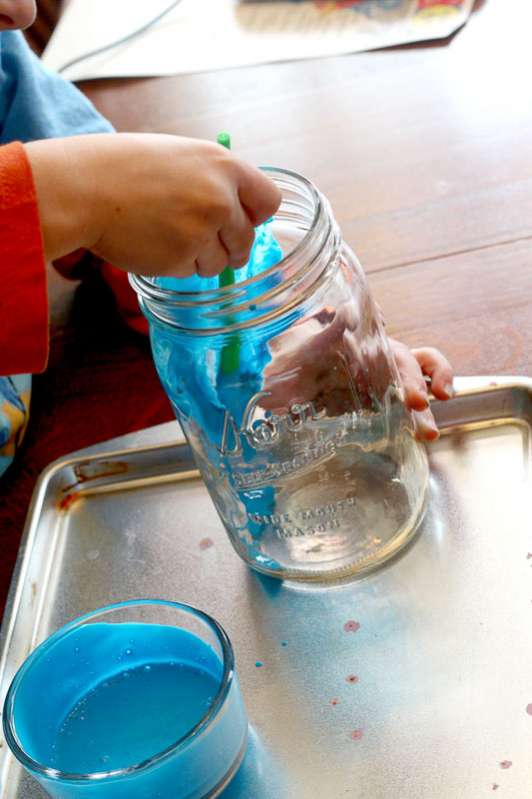 George painted the outside of his. To help contain the mess and prevent drips, I stuck a metal tray under the glass.
He turned the glass jar upside down to paint the bottom of it.
George wanted to use all three colors of glue on his jar, which is just fine.
I just made sure to tell him to keep them separate on the jar or all three colors together would probably make brown. He was very careful to paint the colors next to each other and not mix them all together.
This was excellent fine motor practice!
Get Creative & Mix Up Your Painting Techniques
I encouraged them both to get creative and paint their glass jars with multiple colors to see them marble together.
On their second jars, they each tried painting their jar the other way. George painted the inside of this one, and Henry painted the outside of his glass jar.
How to Finish Your DIY Paint Tinted Glass Jars
I think the tinted glass mason jars look the same, whether they were painted on the inside or out. However, you can feel the glue mixture on the ones that were painted on the outside.
If you prefer a smooth finish, go with painting the inside.
I was hesitant to have the kids do it that way, I thought it would be hard for them to reach in with the paintbrushes. But neither of them had problems.
One thing that helped the boys paint all the nooks and crannies inside was that we used wide mouth glass jars. They were able to stick their hands further into the opening and had more control over paint placement.
It's always nice to see them being creative side by side.
They were even getting along. For the most part.
They had a little argument over the blue paintbrushes because somehow there ended up being three of them and George thought there should only be one.
Learning how to tint glass mason jars with painting was super easy!
Final Step for Paint Tinted Glass Mason Jars
Let Them Drip
After the mason jars are painted, they have to drip. It's most important for the ones that were painted on the inside. So we tipped them over to drip for awhile.
We flipped them over onto sheets of aluminum foil. This made it easier to clean up later.
The one good thing about the kids painting the inside of the glass jars is that I could write on the bottom of them with permanent marker the date and their initial so I knew whose was whose.
We really should have let them drip for a good hour or so, but we were in a rush and it was only a few minutes.
Hey, we were going to go roast hot dogs and s'mores on an open fire!
Bake at Lowest Temperature
Then I popped them in the oven at the lowest temperature I could, 175°F, for about 10 minutes.
The painted glass jars were still upside down.
Then I turned them over and baked them for another 20-30 minutes or so.
Make sure you use oven mitts to flip the jars!
I took them out and we went to roast our hot dogs while they cooled off.
They turned out so pretty with marbled coloring.
I can see a few thick spots in the paint. Maybe if I let them drip for a while longer before putting them in the oven, it would be a more even coating.
They still look pretty awesome though!
I know that these are DIY vases that Grandma will treasure for years.
I can just picture them filled with pretty flowers or stuffed with yummy candies. What would you put into your tinted mason jars?
What are your favorite DIY crafts to gift? We'd love to check out your creativity!