Crafts
Mother's Day
SponsoredGrade SchoolKindergartnersPreschoolersTissue Paper
Window2 Comments
This Mother's Day suncatcher craft is the perfect way to thank a Mom and Grandmother with a kid-made colorful craft. (If you love suncatcher crafts, try this one!)
As a mother to young children, one person I think about daily is my mom. She is always there, only a phone call away to offer a shoulder to lean on. She's given me advice for as long as I can remember.
A mom is someone to celebrate not just on Mother's Day, but every day!
One way that my mom has offered advice is financially. As a mother to young children, I've always been able to turn to my mom for advice about money. She's raised children of her own and has had a few tips for my as my own children grow. Her financial advice goes along perfectly with the resources found with our sponsor's onUp movement that SunTrust launched on February 7. Finances are a journey, particularly when you've got a young family and financial stress can turn into confidence with small steps.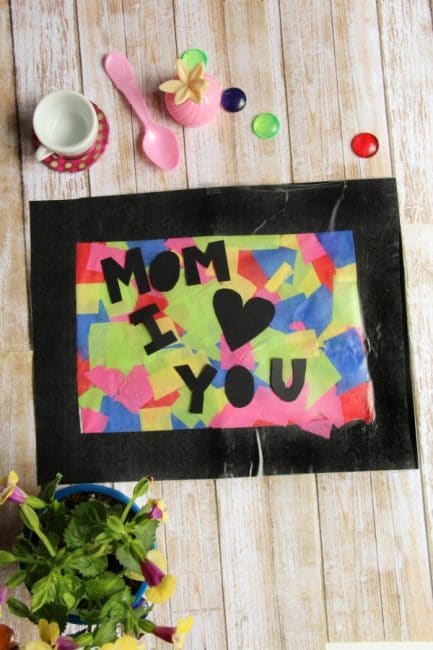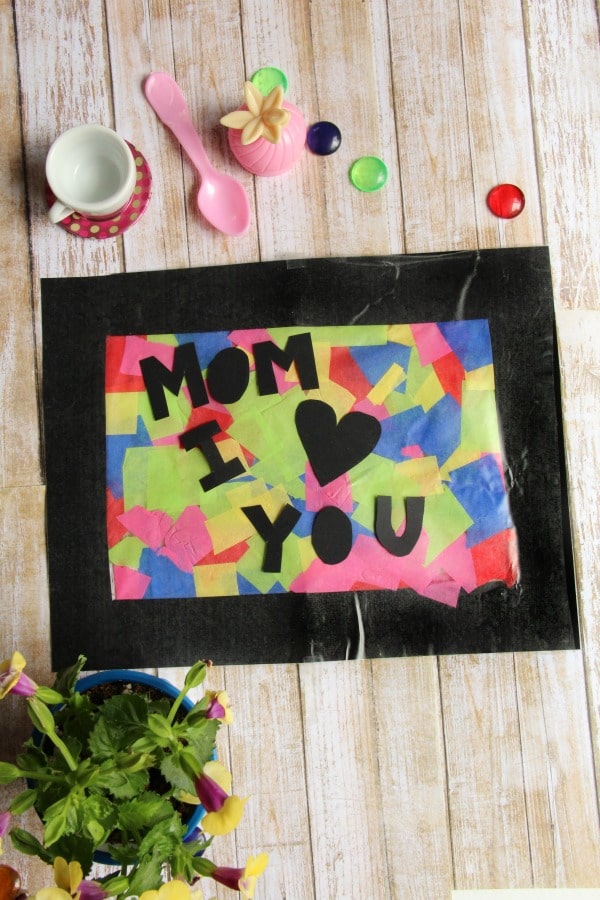 Creating this suncatcher craft with my kids was a fun way to reflect on how her advice has influenced me as a mother. My mom has always had a couple of key tips when it comes to finances:
Work hard and save. Even if it's just pennies.
Teach your children about money.
I think this advice is pretty good for a young family. Children need to know that money comes from hard work and that saving small amounts can add up. Many times, kids don't have a concept of money and think it comes from a bank machine or from Mom or Dad's wallet. My kids and I made our suncatcher craft and talked about how we used items we had on hand and even a few recycled items so that we can save just a small amount of money while making a memorable craft for their grandmother.
This nature sensory bag suncatcher is a frugal way to create with kids, too.
Mother's Day Suncatcher Craft
To make this suncatcher craft, you'll need just a few materials:
Black card stock
Clear contact paper
Tissue paper in different colors (We used recycled tissue paper.)
Scissors
Glue Stick
To make this gorgeous suncatcher craft: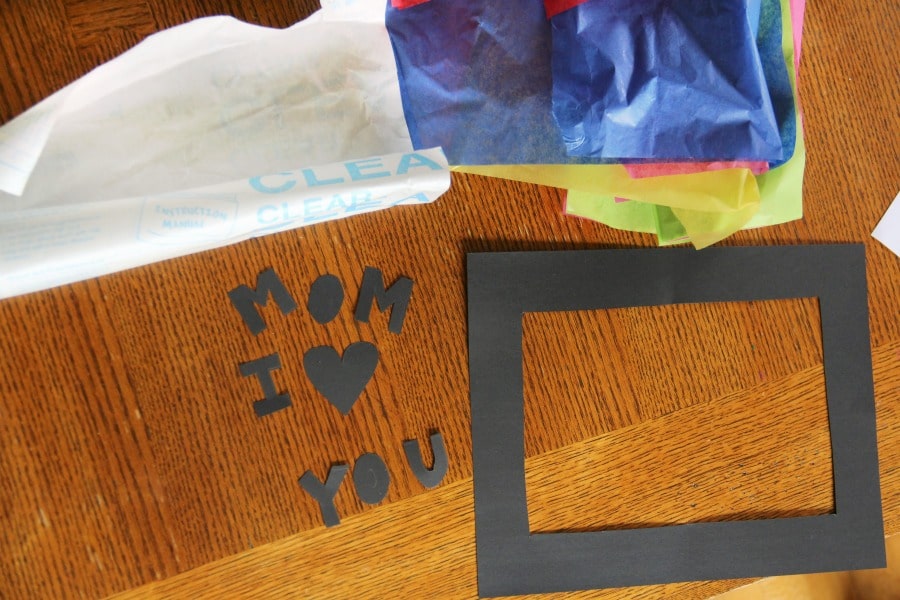 Gently fold the black card stock in half, lengthwise.  Do not crease the paper.  Cut a smaller rectangle, creating a 1 inch border.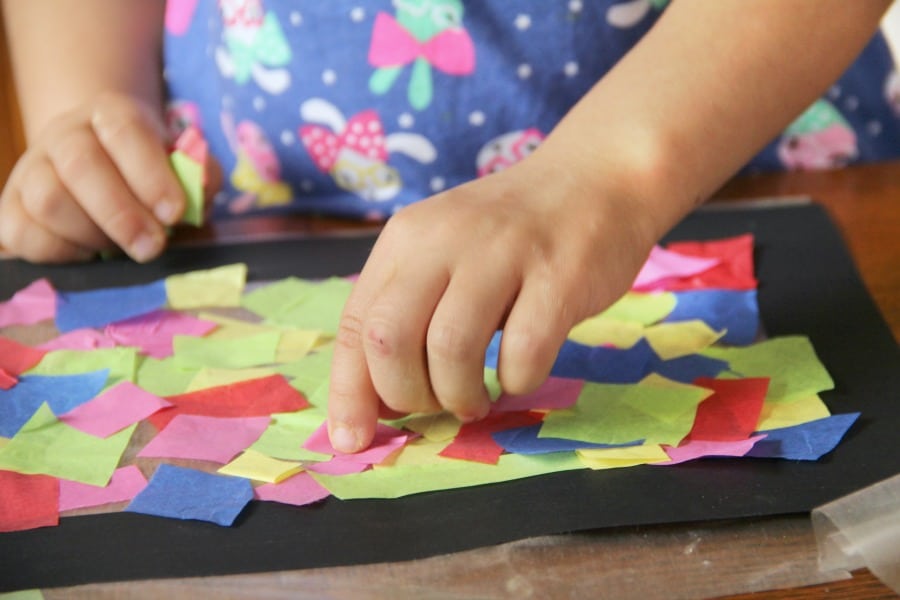 Peel the backing from the contact paper and carefully place the card stock border on the sticky side of the contact paper. Trim excess contact paper around all edges of the border.
Cut small squares of several colors of tissue paper.
Place the tissue paper squares on the sticky side of the contact paper, being sure to cover all of the contact paper.
Cut letters from the left over black card stock. You could also use black letter stickers for this part of the craft.
Using the glue stick, glue the letters over the sun catcher to create a special message for Mom.
Moms will love these Nature Suncatcher Wind Chimes, too.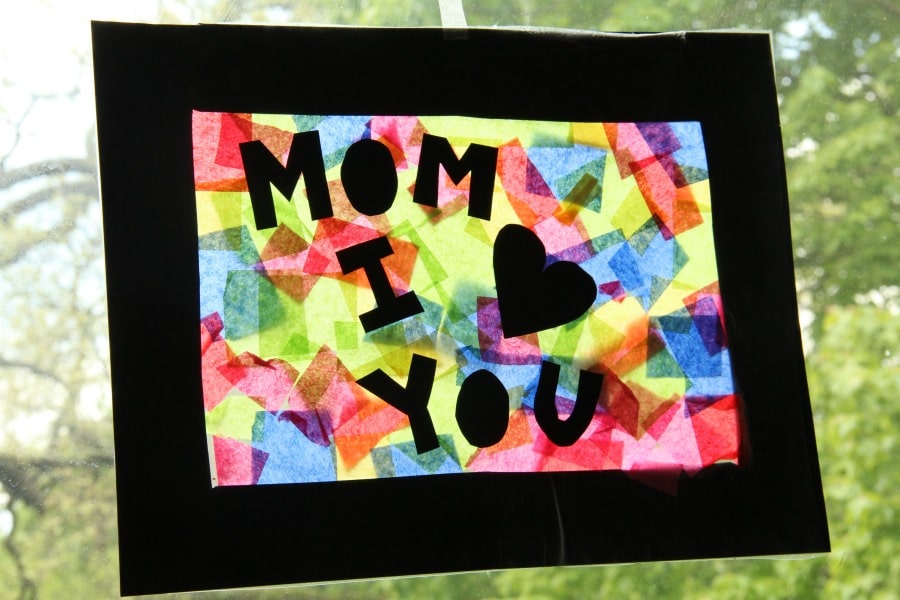 Saying "Thank You" to my mom with a suncatcher craft is just one way to celebrate mom, not just on Mother's Day, but all month long with #MothersMay! Check out our digital card that we made with our suncatcher craft and share it with your mom on social media!
What financial advice has your mom shared with you?
Let us know in the comments!  Be sure to visit www.onup.com for tips and tools to ease financial stress.  Take the first step by grabbing the onUp movement newsletter.  Sign up here.

ᐧ
At SunTrust Bank their purpose is lighting the way to financial well-being. When you feel confident about your money, you can save for your goals and spend knowingly on what matters most to you.  
The onUp movement was created to guide millions of people one step at a time towards a more financially confident life without ever losing sight of the moments that matter along the way.
Join the growing number of people transforming their stress into positive motivation to move onUp.
This is a sponsored conversation written by me on behalf of SunTrust. The opinions and text are all mine.