Math & 123s
WinterPreschoolersCounting
Numbers
Snow
Wrapping Paper88 Comments
A very large snowman for your kitchen! This is so easy to do!
I made ours an interactive snowman.
I cut out the following pieces from craft foam sheets (affiliate link).
MORE ACTIVITIES YOU MIGHT LIKE
2 large black circles (eyes)
3 medium black circles (buttons)
5 small black circles (mouth)
1 orange triangle (nose)

If you don't have the craft foam sheets, construction or scrapbook paper would work for this too! That's what I saw done at "Crafting" my Talents.
My foam is self-adhesive. Potentially, I could have just stuck them onto the fridge like that and would have been even easier.
Instead, I cut out a little circle in the middle of the sticky paper and stuck on a craft magnet (affiliate link) – thanks Craftprojectideas.com for them! It would be even easier with self-adhesive craft magnets (affiliate link).

A snowman needs a scarf too, right?
Take some of that leftover wrapping paper, the scraps work well, or just a 3 inch strip off the end of a roll does the trick too.
Simply cut the wrapping paper in long strips to form the scarf. I taped the scarf in place.
Ta-da, you've made a snowman!
Now let the kids have fun making silly faces with the pieces!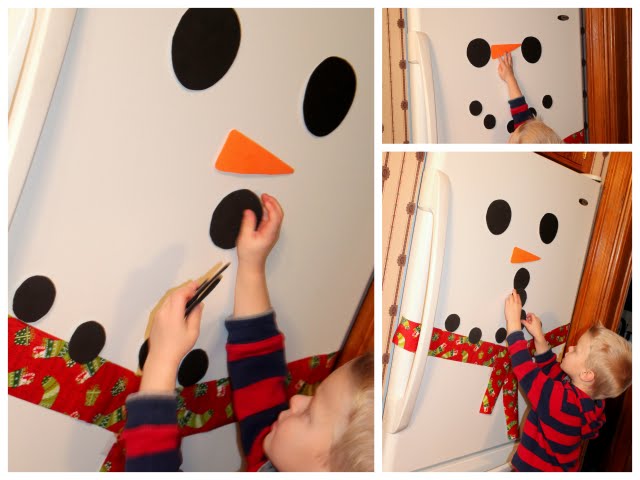 Counting pieces adds a little learning to the activity!
Henry counted the number of mouth pieces and buttons on the snowman!
Bonus: It made me clean off my fridge! I think this will have to be done every year just for that sole reason!