ActivitiesToddlersMy Favorites
Resources155 Comments
Make playtime with toddlers so much simpler with 50+ simply perfect toddler activities!
Activities for toddlers are the number one hardest thing for me to come up with to do.
For our purposes, toddlers are kids between ages 1 and 3, but it's pretty fluid. This age group starts when kids start to walk and ends roughly when they can generalize new knowledge.
This is a hard age because they often want to put stuff in their mouths. Toddlers also have a tough time understanding direction with the extra fun of super-short attention spans.
After years of doing activities with and for toddlers, I've found that simplicity is best!
50+ Perfectly Simple Toddler Activities to Try at Home
I've started keeping track of some of my favorite toddler activities – both my own and ideas from other websites. And this is my giant master go-to list that every hands-on parent needs to keep handy.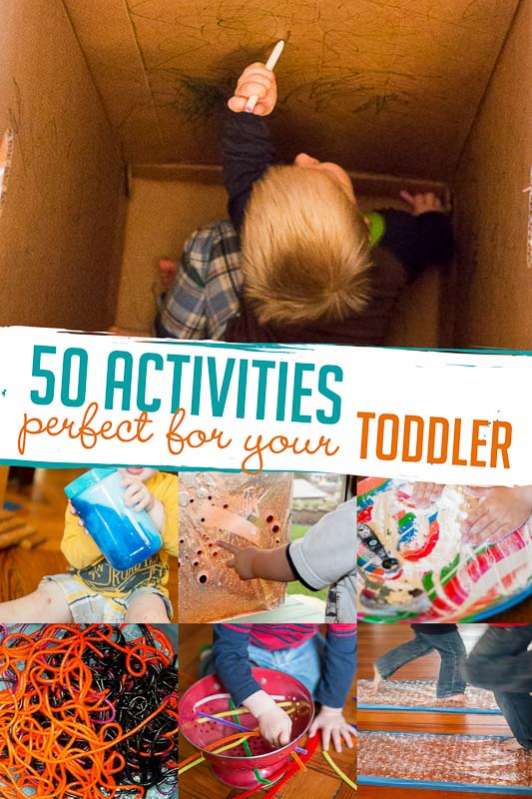 These activities are separated into sensory activities, art and craft ideas, material explorations, and other fun toddler activities. Everything has been specifically chosen just for toddlers!
4 Tips to Make Toddler Activities Easier
Before we dive right into my favorite 50+ toddler activities, I wanted to share some hard-earned tips I've picked up over the years.
Allow your toddler to explore whatever it is that you give them.
Don't do an activity with an intentional plan, it never works out with this age range.
Expect a toddler to be interested, leave it out for them to come back to later, or even the next day.
Plan for them to put it in their mouth if you have a mouther.
I also highly recommend the The Toddler's Busy Book (affiliate link), by Trish Kuffner and PLAY: Activities Plans for your Two-Year-Old. These two resources always have an activity idea that my kids love!
Simple Sensory Toddler Activities
Let your toddler explore materials with their fingers, nose, mouth…really, let them do what feels good!
How does it feel? What does it taste like?
These are wonderful ways to learn and very hands-on.
Easy Peasy Arts & Crafts for Toddlers
This is the area I struggle with the most: getting creative with toddlers. But it can be done if you're a little creative, too!
Find some toddler proven strategies to arts and crafts with these activities!
Find many physical activities for toddlers to burn off some energy!
Free Play for Toddlers Made Easy
Free play is often the simplest of all the activities for toddlers!
It's just a material by itself. Then, let them play and explore with it.
What will they come up to do with the object?
Other Activities for Toddlers
Sometimes you just need stuff for toddlers to do – more than exploring, arts and crafts, or an activity with an intended purpose.
Just an activity that a toddler can definitely do and do well.
My Go-To Toddler Activities Toys
These toddler toys make are versatile to use in many activities and worth having! These affiliate links are to products to help make the toddler years easier and more fun.
What are your go-to toddler activities? We'd love to try new ideas!