Art Projects
SensoryPreschoolersBabyCraft Recipe
Finger Paint
My Favorites
Tape Resist63 Comments
Finger painting for toddlers is a great sensory activity, along with a great beginning art activity for them.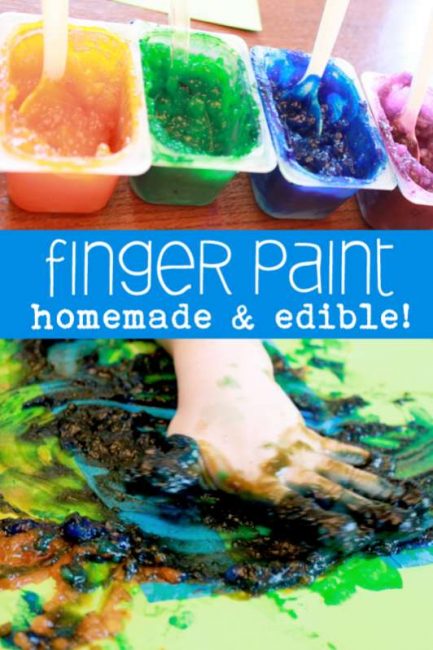 As George is getting older, it's getting more interesting to keep him entertained during activities with Henry. Especially art activities. Because he's usually stuck in his high chair with nothing to do.
To solve this, I included George in the activity this time. I made my own finger paint (its an edible recipe found At the Butterfly Ball) so just in case when George ate it, I knew it wasn't harmful. I could have also used our Crayola Finger Paints (affiliate link), they're non-toxic and I'd feel okay if George put some in his mouth.
The recipe made nine baby food containers of finger paint. I made the paint myself and left them uncolored. We're getting a kick out of making our own craft recipes, they're usually super easy and only include stuff you'd normally have around in your cupboards.
This is a great toddler-friendly recipe, it's included in a collection of 50 activities for your toddler.
When Henry got home from preschool, I let him stir colors into the finger paint.
I taped down the letter H and G onto pieces of scrapbook paper beforehand.
Henry started into his paint right away. Spooning and dumping the paint out in globs and globs.
Not using his fingers in any way. I just let him do as he pleased and tended to George. George didn't know what to think.
And he did have a mouthful of paint. Only once though. It must not have tasted so good.
Meanwhile, Henry kept globbing on the paint with his spoon.
He eventually did put down the spoon and got his fingers (hands and arms) in the paint.
Henry thought he was being hilarious when he smacked his painting over and over, sending splatters of paint everywhere.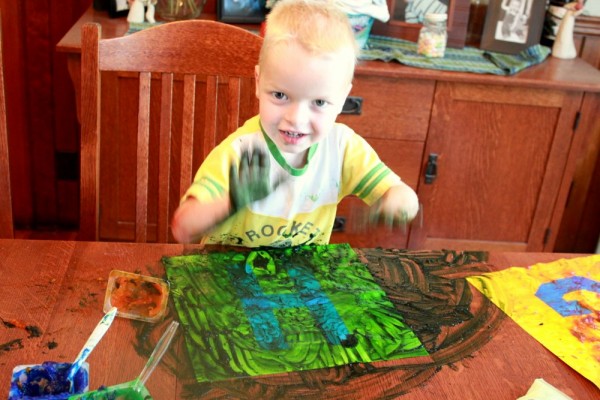 It left a pretty neat mark on his paper though. I wanted him to leave it, but kept my mouth shut. He went onto smearing it.
Everywhere.
And maybe onto George's painting a little.
I really did enjoy both the boys painting side by side.
Henry really enjoyed doing it with George. George probably would've rather been eating though.
When Henry was finished and George had enough, I hung their paintings to dry.
They were soaked.
They took the entire day to dry.
I framed Henry's H in the 12×12 Scrapbook Frame (affiliate link) that I have. I hope to get more of these frames so I can hang this in Henry's room (and George's in his too!).
I found the recipe for Homemade Finger Paint from At the Butterfly Ball.
You can also substitute the food coloring for poster paints, but it won't be edible then.
Henry was 3 years old. George was 11 months old.