Gross MotorPreschoolersToddlersOutdoor11 Comments
Balancing is a major gross motor skill for toddlers, and preschoolers, to learn. This is a simple homemade balance beam for toddlers to practice balancing along, at no real risk of falling and getting hurt.
I just read an article at Balanced and Barefoot about the importance of getting the kids moving (and why they fidget), letting them move, and most importantly, building their core strength. Balancing does that. And kids terribly need it.
Making a backyard balance beam is super simple, that toddlers can even make it themselves!
Grab some scrap wood from the garage or shop and lay out in the lawn.
(If you have clean boards, bring it inside for an indoor walk the plank activity, an idea from No Time For Flash Cards.)
Add corners where you like, you could even make a balance beam maze! How cool would that be? We love mazes!
Or one simple piece of board is enough, too.
Set up is as simple as that.
Even more simple is the activity itself!
Just walk the line!
Another walk the line activity that promotes balance for toddlers.
Walk your way across the boards, and learn a very important physical skill.
Balance.
This is a simple toddler activities include in our 50 activities just for your toddler collection.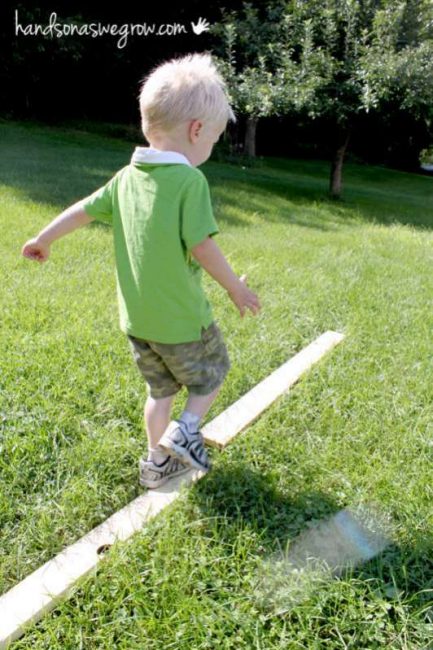 A simple balance beam like this will help Henry learn to balance a bike to ride (which he is now older and rode his bike without training wheels at 4 1/2 years old). But this will also help him gain core strength which will hopefully, in turn, help him fidget less.
What other ways are there to practice balance?