Fine MotorToddlersBusy Play
Egg carton
Pipe Cleaners
Upcycle10 Comments
I'm not crunchy. I'm not green. At least I don't go completely out of my way to be.
But I do every day basic things like recycling, shutting off the lights, and so on… (I've listed out my 9 ways to be Earth Friendly with the Kids.)
But my best green living tip?
And also my favorite is to reuse and upcycle items for play with the boys.
Items such as…
cardboard or cereal boxes
newspapers and magazines
baby food jars or other glass jars
toilet paper and paper towel tubes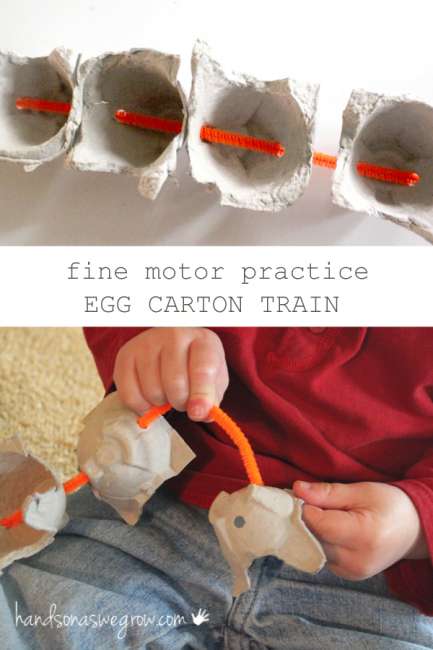 Yes! Egg cartons!
We always have them on hand and use them for sorting quite frequently. But we've never really used the egg carton as the main object of the activity.
I decided this would be a fun medium for a toy for George, a toddler. I cut apart the egg carton into the individual egg pieces.
I wanted to punch holes through the bottom of each one, but couldn't, so I punched two holes one on each (opposite) side.
I thought the pieces themselves could be used as homemade blocks.
Which they can. But with the addition of the holes and a pipe cleaner or two, it became a fine motor activity and we created a train for George to drive along the table on, saying 'Choo choo!'.
It was fun to see him put the train together, Sticking the pipe cleaners through the tiny holes, concentrating hard on it.
But I really enjoyed watching him play with his creation the most.
A simple toy made from the recycling bin.
This is one of the 50 Activities Just for Your Toddler!