Big Art
Crafts
SponsoredPreschoolersPainting
Reading
Tin Cans13 Comments
The Very Hungry Caterpillar (affiliate link) by Eric Carle is probably the most well-known, and popular, of his books. At least it is to me.
I asked Henry if he'd like to make a caterpillar out of tin cans.
He jumped at the chance and wanted me to read the book constantly while he painted.
Tin cans have been on my brain lately, wondering what else I can do with them.
I figured a caterpillar was possible.
We've already painted tin cans with a sponge and with a paintbrush.
Trying to come up with a new way for Henry to paint, I decided on using the can itself.
Squirt some green paint on a tray and roll the tin can in it.

Covering it with paint as you create designs on the tray.
Save one tin can to roll in red paint!


(Henry thought we should paint the inside of the tin cans as well.)
Add some glitter if you'd like.
The designs Henry was making in the paint looked neat, so I tried making a print with one of the labels torn off the tin cans.
Henry was so excited to make prints!
He created a print with every label he could find!
He actually ran out of paint.
(A great way to use up that last bit of paint after an art project.)
He was doing even the small scraps of labels towards the end.
Henry had to show me every last print that he did.
(Love those messy hands!)
He really, really enjoyed this project!
I lined the tin cans up to look like The Very Hungry Caterpillar.
I intended on punching holes in the sides of the tin cans and tying them together.
(Along with creating holes to insert pipe cleaners for feet.)
Turns out that the tin cans aren't strong enough for me to punch the hole.
So then I attempted tying yarn around the cans together, but that was just a disaster.
I have yet a way to attach the tin cans together and here they sit waiting for something to be done with them.
Suggestions?
(I think I should have Henry play a game of "Where is it?" and hide something under the tin cans.)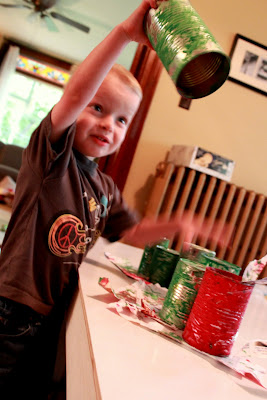 (He can't seem to keep his hands off of them.)
To celebrate Eric Carle's birthday, Kate at An Amazing Child is dedicating an entire week birthday party on her blog! Below there is a link up of all things Eric Carle! Crafts, art, activities, all in Eric Carle style. Happy 82nd Birthday Eric Carle!


Share this link-up on your site