Gross MotorPreschoolersFree Play
Outdoor12 Comments
Sometimes it's the little things, like rolling down the hill, make the best memories of playing outside together!
It's so nice outside and we are LOVING this weather! We're outside playing in it every day.
Which makes for tons of ways to play – new and classic.
Rolling Down the Hill for Classic Outdoor Activities & Memories
And we had a first the other day.
Henry rolled down our backyard hill! I've tried to do this with him a few other times and had no luck in getting him to do it.
But this time, he suggested it!
On a gorgeous afternoon, while the boys were playing so nicely in their sandbox together, Henry came up to me and asked me to roll down the hill with him.
Of course, I will!
So we rolled down the hill, time after time – giggling the whole way down.
We love these 5 outdoor activities – no supplies needed!
Pretty soon the other boys wanted in on the action!
George just giggled and laughed. I couldn't for the life of him get him to lie down to show him how to roll. He just died laughing every time he saw us roll down.
Making Memories with Classic Playtime Activities
Henry and I rolled a few times down together. That was his favorite – and mine!
Lying our in front of each other, we stretched out our hands. We held hands and said, "Roll!"
And we rolled all the way down together.
Once the rolling down the hill fun wore off, I was beat and needed a rest.
But Henry was ready to go. And he did.
He raced down the hill – faster and faster! Henry loved zooming around outside.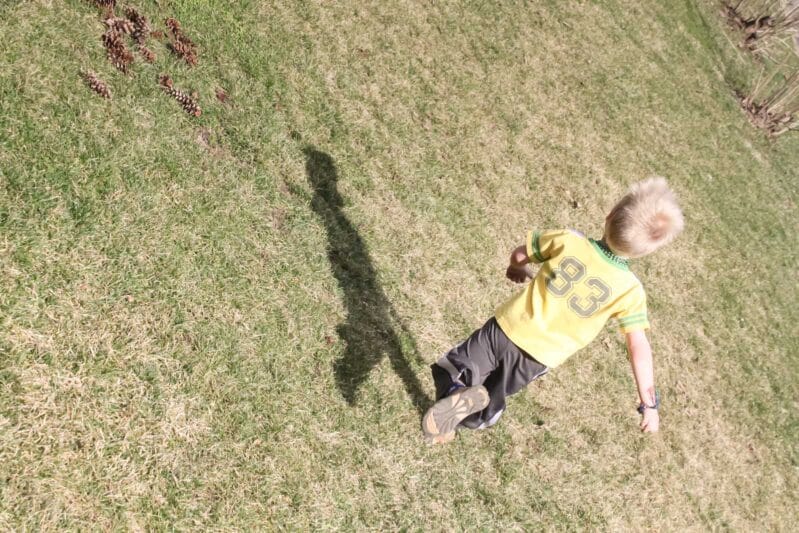 How do they have so much energy? I need it bottled, please.
Take time to relax after your rolling with a quiet listening activity for kids!
What are your favorite classic ways to play outside, other than rolling down the hill?