Autumn
SensoryToddlersPreschoolersOutdoor10 Comments
With harvest in full swing at Grandpa's farm, Henry's always begging to go along and ride in the combine. This weekend, the entire family got out there and rode along!
I decided to bring home some corn straight from the field for a sensory activity! (Okay, it may have gone through the corn bins before I got to it.)
Find more transportation activities like this for preschoolers, including crafts and our favorite books.
When I saw Happy Little Messes corn sensory bin on It's Playtime last week, I knew corn would also be a hit in our house.
A bucket of corn and some boys and we were set.
Bring out the tractors, wagons, semis, whatever you got to haul corn.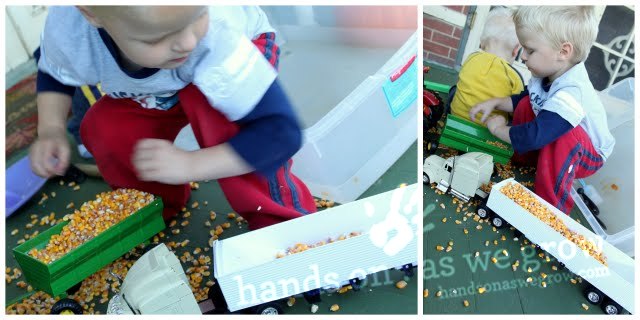 George dug right into the corn, as well.
After showing him once, George began transferring corn from the bucket to an empty container.
(Missing quite a lot in the process, but definitely an improvement and much more intentional than the tissue paper.)
Add a shovel and some utensils to the mix and a few miscellaneous containers and let the mess hauling begin.
The containers became grain bins. There was a river that Henry hauled the corn to. And many, many loads of corn were hauled.
And the mess didn't matter. The boys had a blast and could play in it for hours.
Did I mention they played very nicely together the entire time? A rarity.
(By the way, hauling corn, with or without the corn, is a regular occurrence in our house. But adding the real thing brought a whole new light to their regular play.)
What ideas do you have for corn?