Campaign
Math & 123sPreschoolersCounting3 Comments
George is just getting the hang of counting and one to one correspondence. An important skill to learn before kindergarten.
I am extremely excited to share with you this new product, that I'm also excited to be partnering with: Pre-K Achievement Rings.
They're visual 'skill' cards on a ring. The set includes a parent guidebook and a wall poster as well. They showcase 37 skills preschoolers need to learn before they head off to kindergarten.
I know, as a parent, I really didn't know what kids needed to learn. I mostly left it up to their teachers to get them there. Sure, we did learning activities at home, but that was mostly based on what they're showing interest in.
This product makes it very clear what preschoolers will need to learn to be on target when they enter kindergarten.
The wall poster is a great visual for George to feel like he is accomplishing new things.
And the handy packet of cards on a ring makes it easy to know we're on the right track. It's easy to go through and look for skills that he still needs to work on, or 'master'.
It's great to have the parent guidebook handy to explain what each skill is. As a parent, I don't know what the goal would be for 'I can express my feeling about my work and work of others'. Plus, it gives activity ideas to help master those skills.
For instance, we looked at the poster we hung on our wall and decided to work on one to one correspondence. By the time he enters kindergarten, he should be able to count objects to 20.
He still has this year and next in preschool, so we have plenty of time to master that skill. We're currently 'in progress' on this skill. He understands the concept of one to one correspondence, but can't completely do it to 20 yet.
We decided to do a one to one correspondence activity using dice and corn kernels!
Did you see the myth we busted with an ear or corn? See it here.
I set out a muffin tin, a container of corn kernels and one die.
This was all about counting dots on the die and counting corn kernels. One to one correspondence.
What is one to one correspondence?
I sometimes have a hard time distinguishing between counting and one to one correspondence.
Counting is simply counting the numbers, 1, 2, 3, 4, 5. It's not actually counting an object, just counting through the numbers themselves. George can count to about 15 at the moment, just rattling off the numbers.
One to one correspondence is a bit different because it is actually counting objects. Putting your finger on it, moving the object, transferring it, whatever. Actually counting the number one with one kernel of corn. When the next kernel of corn is transferred, that's number 2 and so on.
Make sense?
This activity has double the one to one correspondence.
George would roll the die. Count the dots on the die. There's one chance to practice one to one correspondence.
Then he would count that many corn kernels and place them in the muffin tin. Second chance to practice one to one correspondence.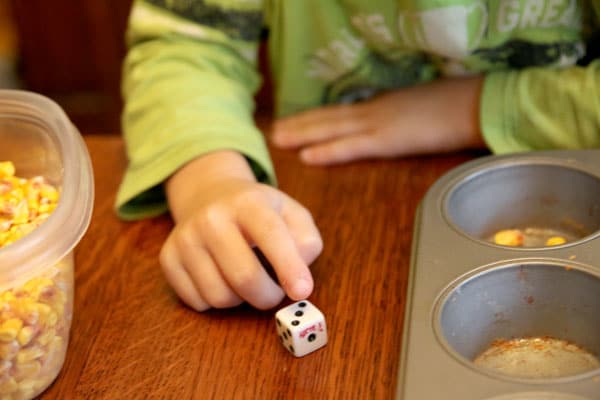 George mastered counting to six pretty quickly.
He repeated the process for all twelve muffin places (rolled the die and counted 12 times).
By the end, he was able to tell how many dots were on the die just by looking for most of them (5 and 6 were still tricky)!
After playing in the corn kernels for awhile, just transferring them back and forth for fun, he graduated to a deck of playing cards.
Counting to 10!
More fun counting activities can be found here.
If he didn't recognize the number on the card, he'd count the number of hearts (or spades, clubs, etc). We have boxes around the center of the cards, so I made it a point to have him count the hearts in the box, and not the ones outside (by the number).
This time he counted handfuls of corn kernels instead of each kernel individually.
All this inspired by a little box on the wall poster we got!
This product helps take the guess work out of 'What do my kids need to know before they start kindergarten?'
Teachers and schools have been using them for awhile and now they're for parents too! It comes with this handy wall poster so the kids can visually see and applaud themselves (with a sticker) for achieving a new skill!
There are two different sets of these rings to choose from, one that focuses on the early learning standard skills for 'whole child' development, and one that focuses more on math and literacy skills.
Math and literacy come somewhat naturally to me to create activities around. So, I chose to focus on the 'whole child' early learning standard set for George.
George and I went through the Achievement Rings together.
As I'd come across a skill that I knew he's mastered, I gave the card to George for him to find the match on the poster.
When he found the match, he put a sticker to show he's accomplished that skill.
I have since gone through the cards and divided them into three categories:
Ones he's mastered (they got stickered!)
Ones we're currently working on (i.e. this one to one correspondence)
One for the future (there are many that depend on other skills to be mastered first)
While the parent guidebook does come with a lot of activities to master each skill, I thought I'd share some of our activities.
These activities help master a few of the skills kids need to know before Kindergarten:
The Achievements rings come with 36 or 37 skills for preschoolers to master (depending on the set). You can find out more about the Achievement Rings on the Align, Assess, Achieve website.
Disclosure: This post has been sponsored by Align, Assess, Achieve. All opinions and text are my own. Tell them a huge thank you and check out their Achievement Rings.