Science
SensoryToddlersPreschoolersExperiment
Toys
Water Activities22 Comments
Get splashing with a fun sink or float experiment that's perfect for toddlers! It's an easy water experiment that you can do inside or out.
Seriously, the most asked for activity from Henry is a water activity. And this sink or float experiment is right up there and perfect for water-loving toddlers to see what will sink to the bottom or float at the top.
After doing his own water experiment, painting with water on the driveway, a what dissolves in water experiment, the stages of water experiment, along with many other countless ones, I am struggling to come up with new ideas for water!
But, of course, there's always more ideas.
And this sink or float experiment may one of the more basic ones, but it's very successful at entertaining them in the kitchen while I got dinner on the table.
Toddler Science: Sink or Float Experiment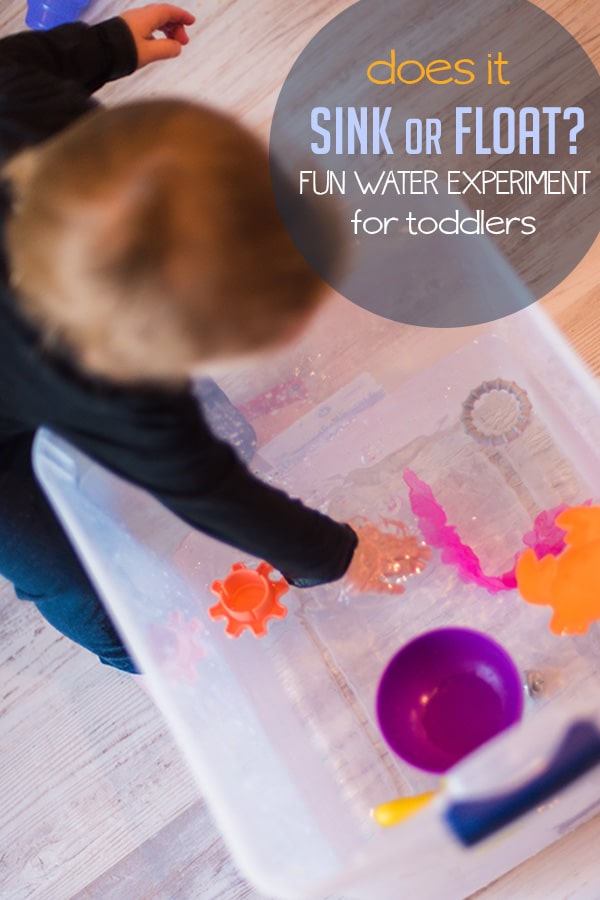 I started Henry with an empty basket to go around and grab a few of his toys that could get wet.
It was hard to explain to him that wooden toys probably wouldn't be the best, nor would ones with batteries in them. But we eventually found a few toys to experiment with.
Work on fine motor skills with a fun water scooping and pouring activity for toddlers!
A water-filled tub and some toys are all you need.
As Henry and George began to put the toys in the tub of water, I prodded them with questions about what they thought.
"Do you think that one will sink when you put it in?"
"What do you think will happen with that toy?"
Keep asking questions and talking about what you're observing. This helps give your child a guide and to understand what they're seeing.
Henry guessed each time. But it was completely a guess for him. He really had no clue.
And to George it was just a great big toy that was fun to play with! It was great entertainment for the boys while I got dinner ready.
And when they were done, I just wiped up the splashes they made with a bath towel.
Bonus: My kitchen floor got mopped in the process! I would have let the boys do that part, but Dad was working on something in the garage that took them away.
We even had a couple of things that just sort of sank, but kind of floated, too. This caused confusion.
Tissue paper was one of them. Pom poms also surprisingly floated.
For some reason I really thought they'd fill with water and sink, but they didn't. The pipe cleaner floated, but sank eventually.
Toddlers love to experiment with a fun colorful water activity!
The purple tissue paper eventually made the water turn purplish too after the boys played for a while. Henry had to make sure I noticed that! And he knew what caused it too!
If you have older kids, make a chart and graph your findings! Make a list of all that sink and another list of all that float.
Tally them, or graph them to see what is more common.
Here's a quick free printable I found from Buggy & Buddy that you can use!
What's your favorite way for your toddler to experiment with water?