Fine MotorToddlersPreschoolersOutdoor
Painting
Water Activities6 Comments
So, can I credit my mom for an activity?
My husband picked up the kids at my parents' house last week (I was still decorating cakes at suppertime…), and he found them painting her sidewalk with water. Henry told me that night during our nightly bedtime conversation that was his favorite part of the day. (Thanks Mom!)
The next day was hot. Very hot. And the boys wanted to play outside. Where we usually play (in their sandbox) is completely sunny in the morning. I wanted them to be in the shade, and getting them to the other side of the house was the only option. The other side of the house is just driveway though.
Out comes the water to do some painting on our driveway!
(This must have been a week for water, I guess it was hot, so that must be why. George got to play in water the other day too!)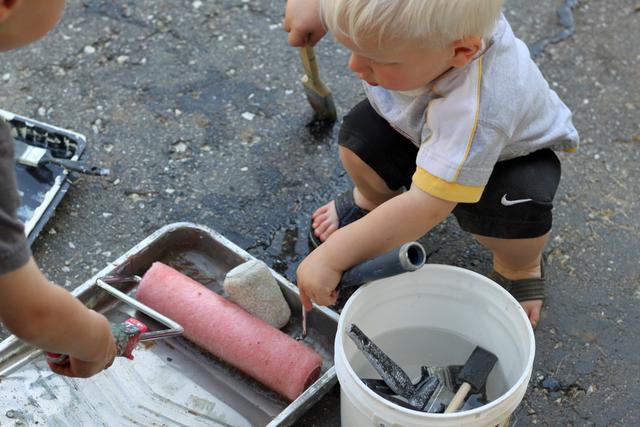 I gathered my painting supplies. Paint rollers and rolling pan, some paint brushes and foam brushes. Filled a bucket and the pan with some water and handed it to the kids.
George had a little experience with painting with water inside on the chalkboard not too long ago, but he mostly explored the bucket and tubs this time. Playing with the water in them mostly.
Henry got right to it and rolled and painted water all over the driveway. (Which, by the way, is very very dirty!)
The paint rollers were by far the favorite of both the boys.
After seeing Henry in action for a little while, George joined in too.
And it wasn't long before the boys liked to dump the water on the driveway to then brush and roll it around further.
I'm not sure how many times I refilled that bucket…