Learning
SciencePreschoolersColors
Experiment
Mixing Colors
Water Activities4 Comments
Mix up your next playtime with colorful water play experiment for preschoolers. Use Julie's ideas, and add your own fun twists, too!
My preschooler loves water play! If your child enjoys pouring and mixing water, he's sure to love this simple colorful water play experiment.
This play-based learning preschool activity teaches colors, fine motor skills, and lots of listening skills as well!
Colorful Water Play Experiment for Preschoolers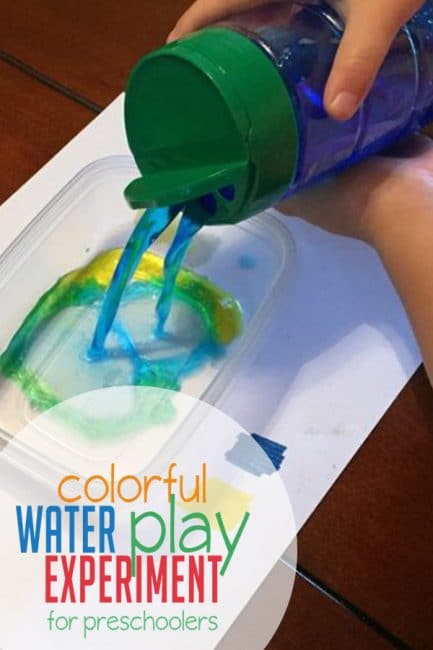 We were inspired by a simple water play idea and remixed it a bit. We wanted to add in some scientific thinking and hypothesizing for older children.
Our activity used just a few simple supplies that we usually keep stocked at home. To do this experiment, you'll need:
white paper
blue, red, and yellow markers or crayons
blue, red, and yellow food coloring
water
three bowls or buckets
three empty spice jars
I took out three sheets of white paper and colored little squares on each one with the markers.
On each paper, I drew different combinations of colors. I drew squares of blue + red on one page, blue + yellow on another, and red + yellow on the last one.
We set one empty bowl on top of each paper.
Next, my son helped me fill each empty spice jar with a bit of food coloring and water. I put just one color in each jar: red, blue, and yellow.
He had fun shaking up the jars to mix in the color!
I explained that today we were going to explore colors.
"Blue, red, and yellow are called primary colors. This means that with only these three colors we can make any other color in the world!"
Amazing, right?
We used the colored squares on each page to guide our experiment and mixing. I had him point to the colored square on the paper and choose the correct jar of colored water.
Be a Color Mixing Scientist with Your Preschooler
Before my son poured any water into the bowls, I asked him to make a hypothesis, or guess.
Which color will we create when we mixed up the three colors we had?
After you make your hypothesis, you could "record" it by adding a third colored square, your guess, to your paper.
We started by mixing blue + yellow. He guessed that we would create green!
I like to make sure I let him do the thinking so I said, "That's a good hypothesis, let's test it and see what happens!"
For our first mixture, he poured in yellow, and then blue. And it made…green!
He was so happy he got it right, and quickly wanted to move on to the next step of the experiment.
Keep experimenting with your preschooler to discover what dissolves in water!
The next two combinations he did not guess correctly.
Can I tell you a secret? I was actually glad he didn't!
It gave us a chance to talk about the way a scientist thinks.
Scientists don't get upset if they guess wrong. They learn, make a new hypothesis, and keep trying.
We still had a great time watching the new color appear!
If you've added your "guess" color to the paper, and you are wrong, make a new square with the actual color. It's a great way to keep track of your experiments, and is super scientific!
Keep making science exciting with 30 oh-so-cool science experiments for preschoolers!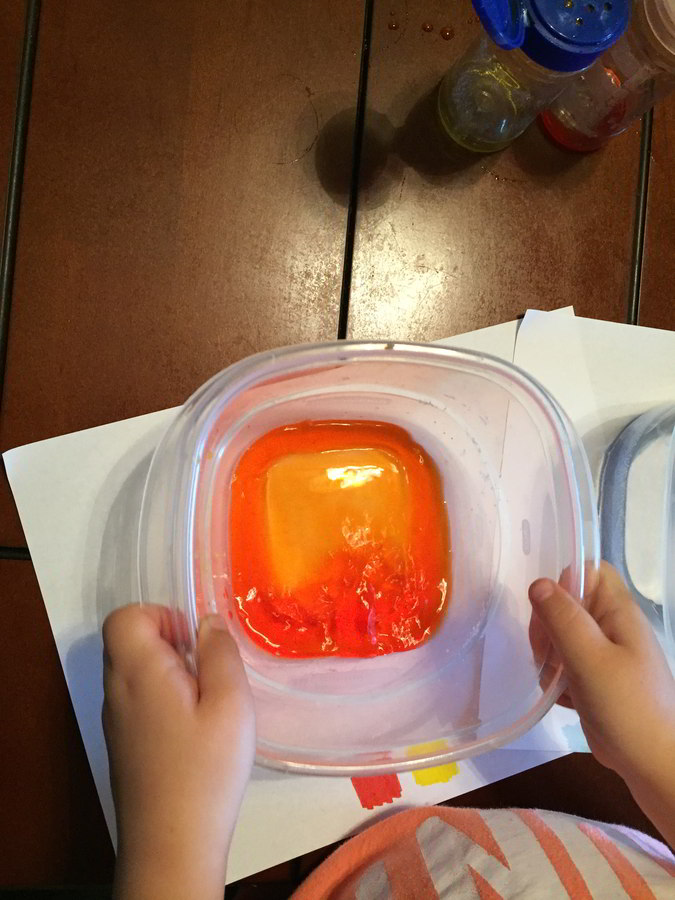 This simple colorful water play experiment was such an easy way to combine the scientific process, sensory water play, and color theory as well!
Keep exploring colors with a fun color sorting activity that uses sticky window clings.
What's your child's favorite water play experiment? Share with us below!